Spectrum /
George Berlin & Mind Exchange Music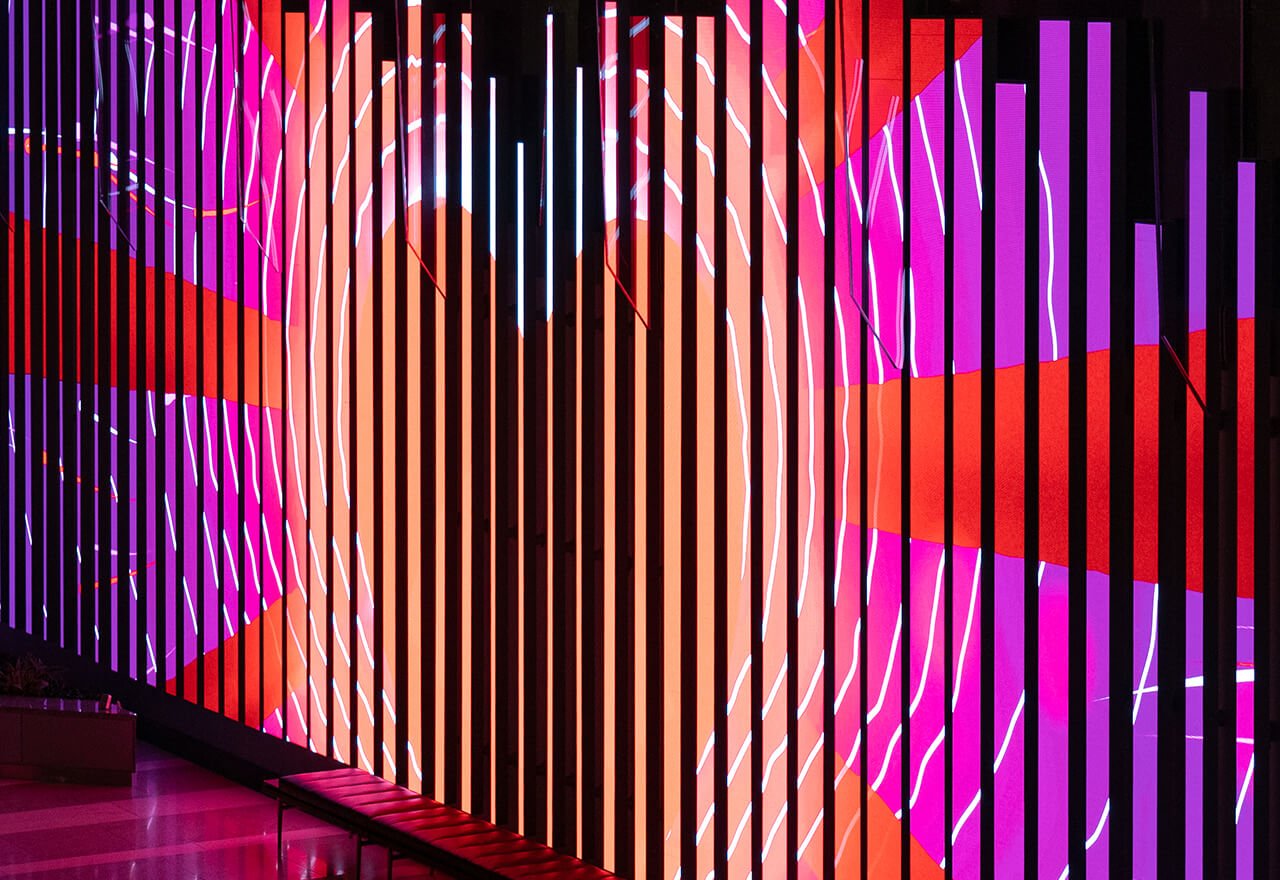 Bisa Butler /
The Art Institute of Chicago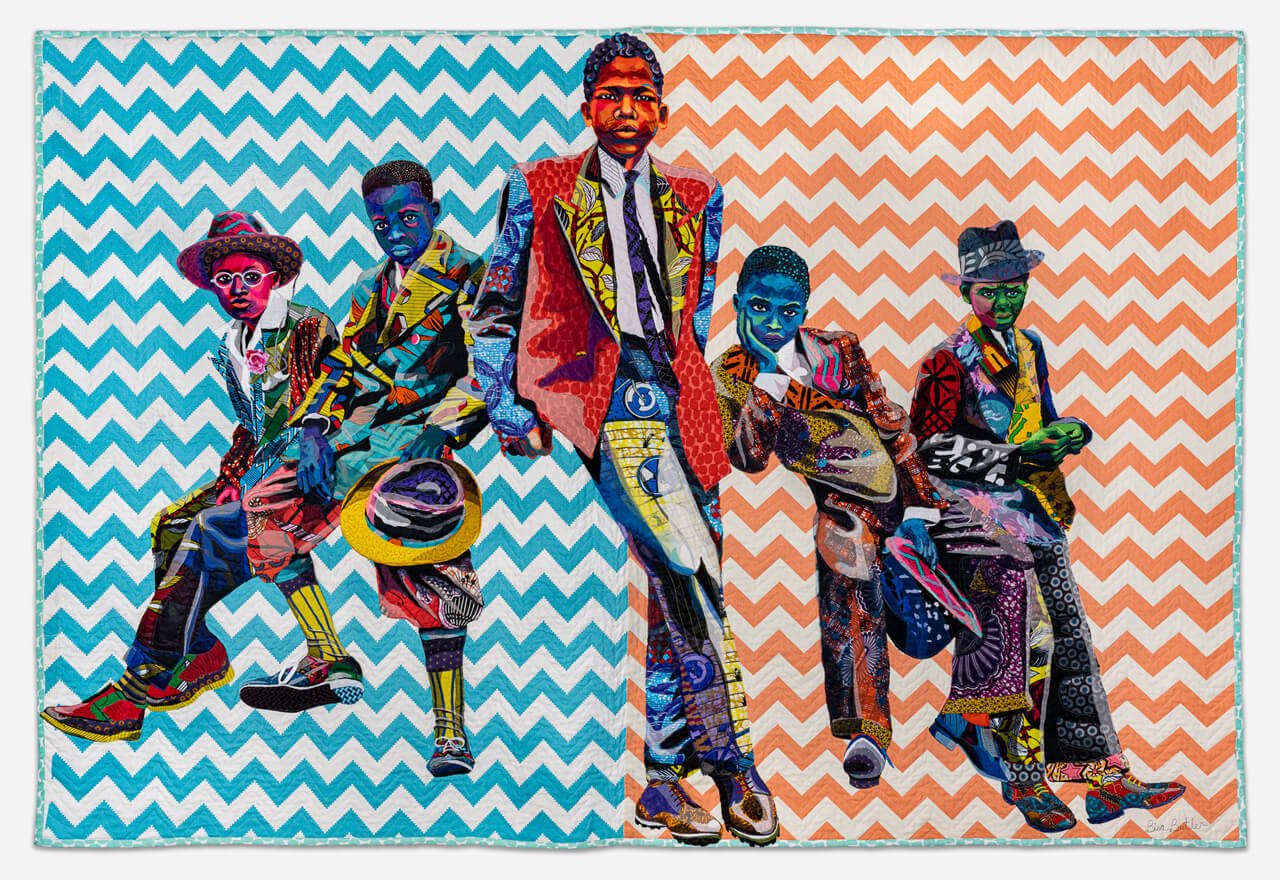 Streaming Now…
Spectrum /
George Berlin & Mind Exchange Music
AUGUST 2 thru
SEPTEMBER 19, 2021
Lunchtime Multimedia Concert
Wednesday, August 18th
12:15–2pm
150 N Riverside Plaza (Chicago)
Performances at 12:30, 12:50, 1:15 and 1:45, 5 mins each.
Refreshments will be served.
Viewing Hours
Monday—Friday: 12–1:30pm, 4:30–8pm
Saturday: 1–9pm
To celebrate the 2021 Year of Chicago Music and its citywide festival, 150 Media Stream presents the debut performance of a multimedia concert by animation artist George Berlin and the Mind Exchange Music.
The work entitled Spectrum is a journey of exploration and celebration through a rainbow of colors that comprise the visible light in our lives from sunrise to sunset. This adventure transports us around the wheel of hues that paint our perceptions of the physical and emotional life experiences in our world, portraying the unending cyclical nature of our entire universe—days, seasons, orbits, and especially feelings.

The original music score dives far deeper than simple accompaniment. Each movement rises and falls as Spectrum evolves from the warmth of early day towards the cool of night. Composed, directed, and produced by Donny Walker of Chicago's Mind Exchange Music, it is tightly woven together with the vibrant visuals into the very fabric of the work. The music thematically progresses with the story flow, pulling us forward into the rolling waves of emotional connection, and further enhancing the intensity of this immersive experience.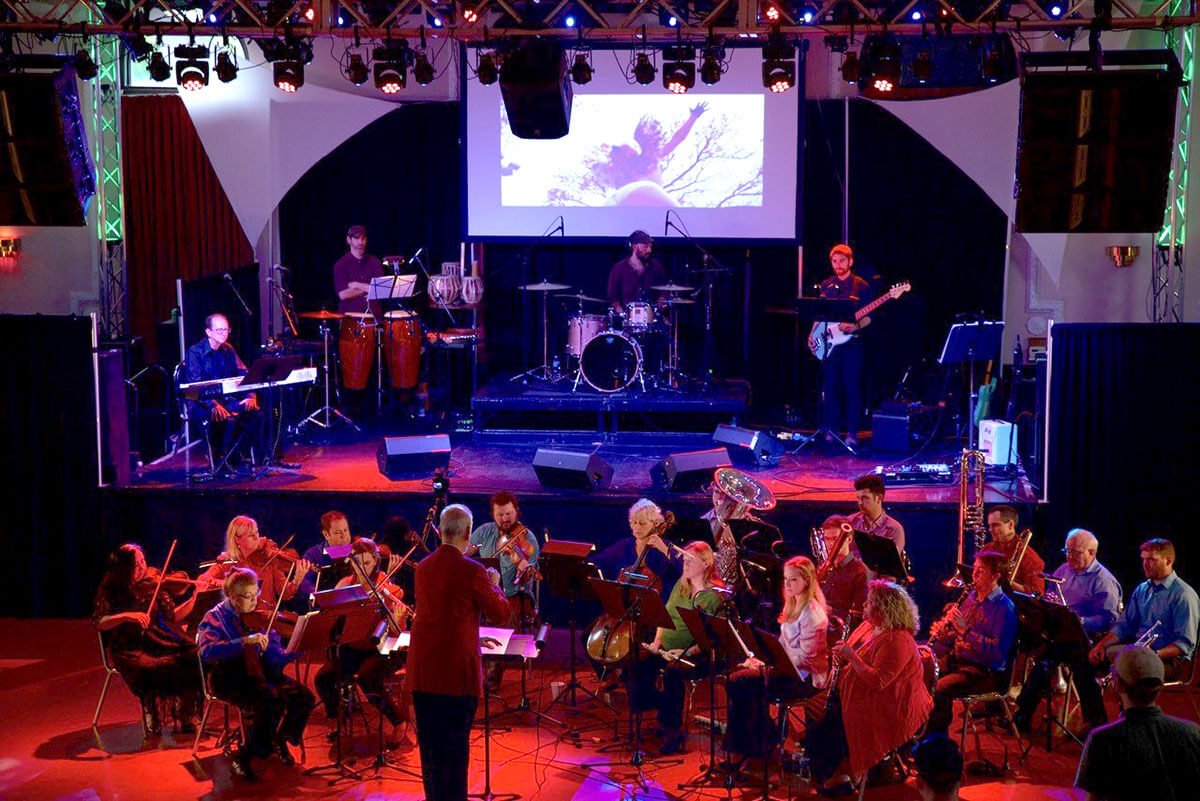 Spectrum is created especially for the 150 Media Stream's unique sculptural design offering the kind of space that invites and inspires us to "read between the lines". This work of art is especially timely right now as we re-emerge into a summer of promise and possibilities.
The live concert with animation will be performed four times, five minutes for each session, on Wednesday, August 18th from 12:15–2pm. Spectrum will be on view at the 150 Media Stream until September 19th.
George Berlin creates "music for the eyes" with artfully crafted immersive experiences that charm, endear, and delight with inspired narrative and playful fun. George's immersive spectaculars weave light, color, imagery, and sound together into an animated tapestry that brings space to life.

Audiences worldwide enjoy his award-winning work's signature style and beauty through colossal light sculptures and public spaces that dance with light and singing colors. His latest globe-trotting adventure was five months in Taiwan launching the The Tashan Tree Of Light—a three-story tall cascading beacon of hope reaching to the heavens from a remote mountain village. This May in Sydney, he debuted his delightful dance through the whirling world of falling in love entitled "Home" with lush orchestration by Mind Exchange Music. George's 2019 space saga "Moonbeams" celebrated the Apollo Moon landing anniversary with a spell-binding narrative projected onto the 900-foot-long Palace of Parliament façade in Romania. At Seattle's 2018 Borealis Festival of Light, his projection epic "Let's Dance!" was voted Audience Favorite by over 120,000 guests.
Follow along with his adventures at georgeberlin.com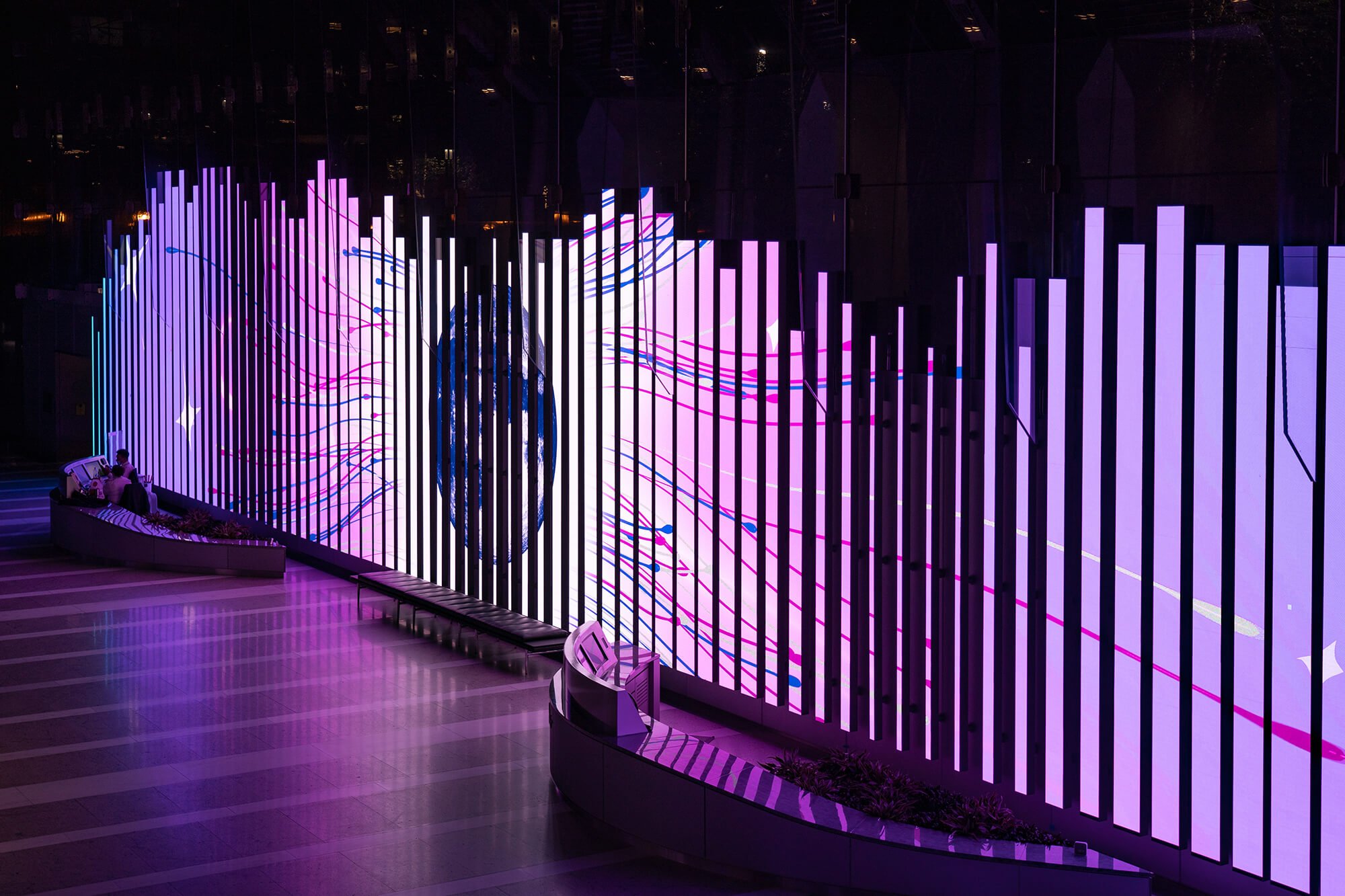 Donny Walker, co-founder and composing partner of Chicago's Mind Exchange Music, has performed with Aretha Franklin, The O'Jays, The Temptations, and is an International award-winning composer, arranger and music producer. He and his recording partner, Kelly Askam, are creating original soundtracks heard across broadcast and feature films.
Mind Exchange Music performers for this event are hand-picked from the best in the Chicago music scene- playing a wonderfully diverse spectrum of instruments from cello and tuba to Tuvan throat singing and world percussion.
Enjoy more of their sonic soundscapes at mindexchangemusic.com
Also Streaming…
Bisa Butler / 
The Art Institute of Chicago
NOVEMBER 16, 2020 thru
SEPTEMBER 6, 2021
Viewing Hours
Sunday: 1–7pm
In conjunction with American fiber artist Bisa Butler's solo exhibition "Portraits" at the Art Institute of Chicago, 150 Media Stream is featuring an animated version of Butler's quilted artwork Southside Sunday Morning. In all her work, Butler creates arresting portraits—composed entirely of vibrantly colored and patterned fabrics—that reimagine and celebrate narratives of Black life. The inspiration for Southside Sunday Morning was a photo taken by Russell Lee for the Farm Securities Administration on Easter morning in the Bronzeville section of Chicago in 1941.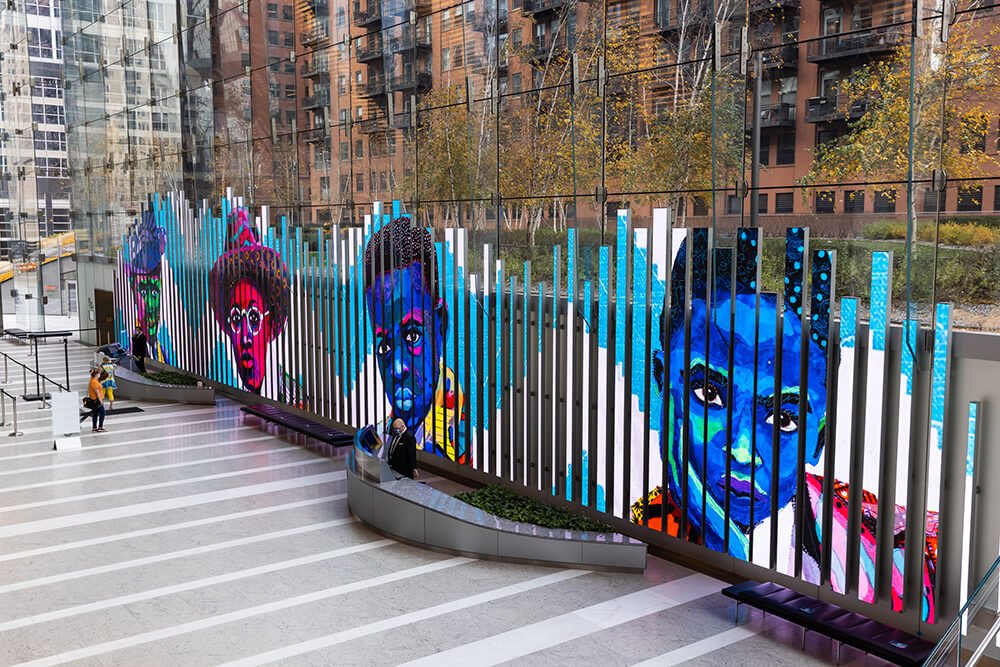 Butler described the conception and process of creating Southside Sunday Morning:
"I was inspired by the smartly dressed, handsome African American boys who had such youthful faces—but such grown up and dapper clothing. The way they are dressed indicates the effort their parents put into making sure that their children looked their best for church on Easter morning. The boys are flawless; from their freshly cut hair and waves all the way to their brand new shoes."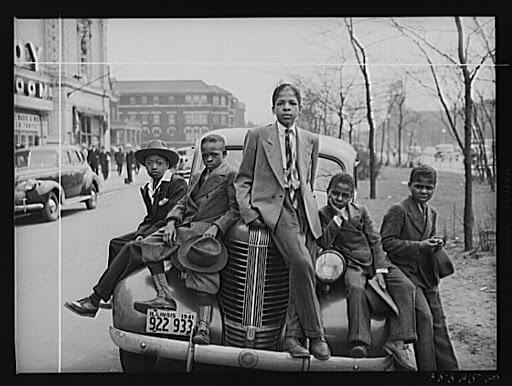 Negro boys on Easter morning. Southside, Chicago, Illinois, 1941, by Russell Lee
"I chose African Dutch wax fabric to illustrate that although these are American children, their roots are in Africa. The patterns they wear indicate their personal interests; for example, the boy in the middle has bicycles on his pants because I imagined that may be a favored pastime.
Another boy has Legos or building blocks on his jacket to show an interest in constructing things. The background fabric has an undulating chevron pattern that I've used to illustrate the frenetic energy of youth. Each child has a distinct and different color complexion because I want to show that while they are all Black, they are all unique. I use color to suggest a mood and a personality. A complexion of oranges and reds hint at a bold personality while blues and violets hint at introversion.
"I've called this artwork Southside Sunday Morning as an homage to the movie Uptown Saturday Night by Richard Wesley."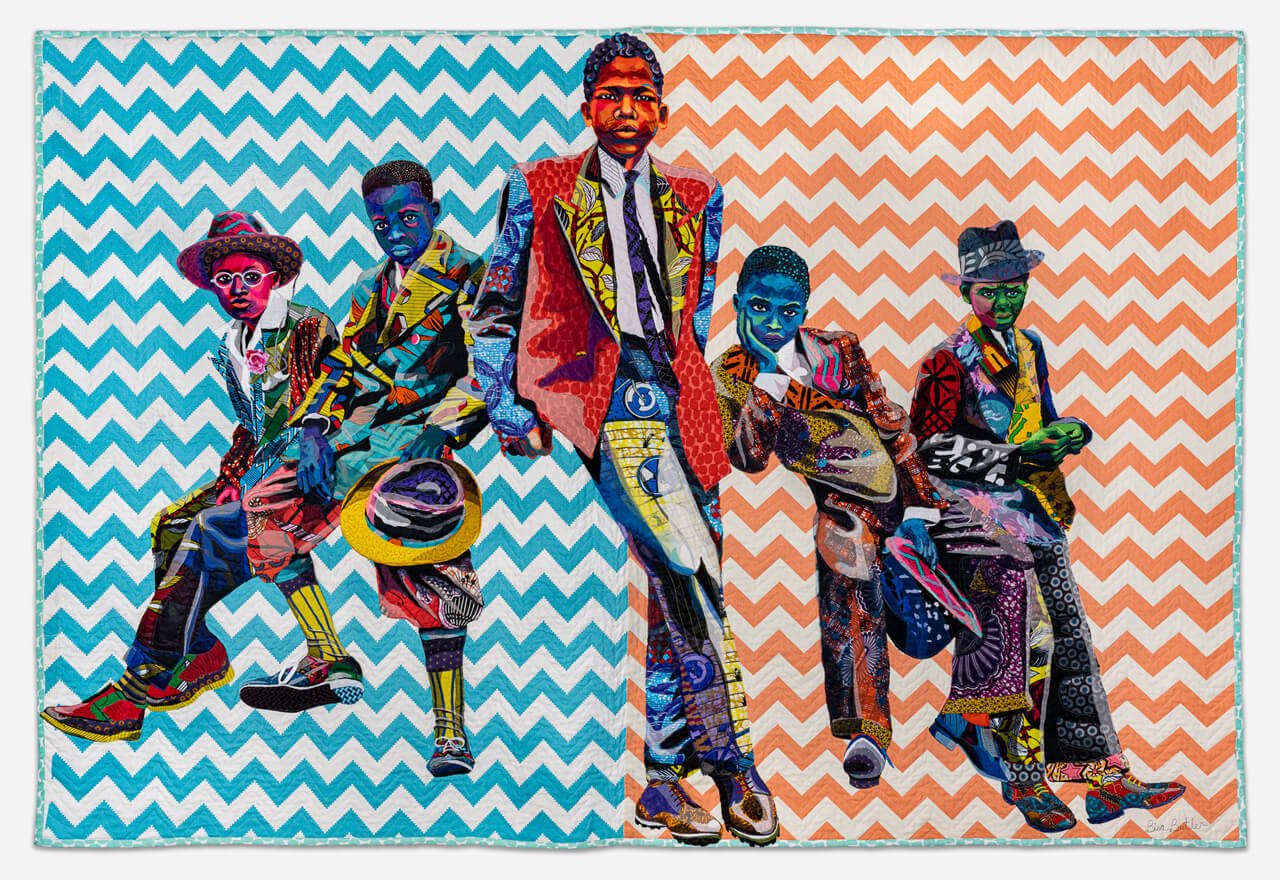 Southside Sunday Morning, 2018, by Bisa Butler. Cotton, silk, wool and tulle. Quilted and appliquéd. 73" x 109".
The animated version of Southside Sunday Morning will be on view at 150 Media Stream from November 16, 2020 to April 19, 2021. The animation of the work to be configured for the 150 Media Stream was done by George Berlin Studios.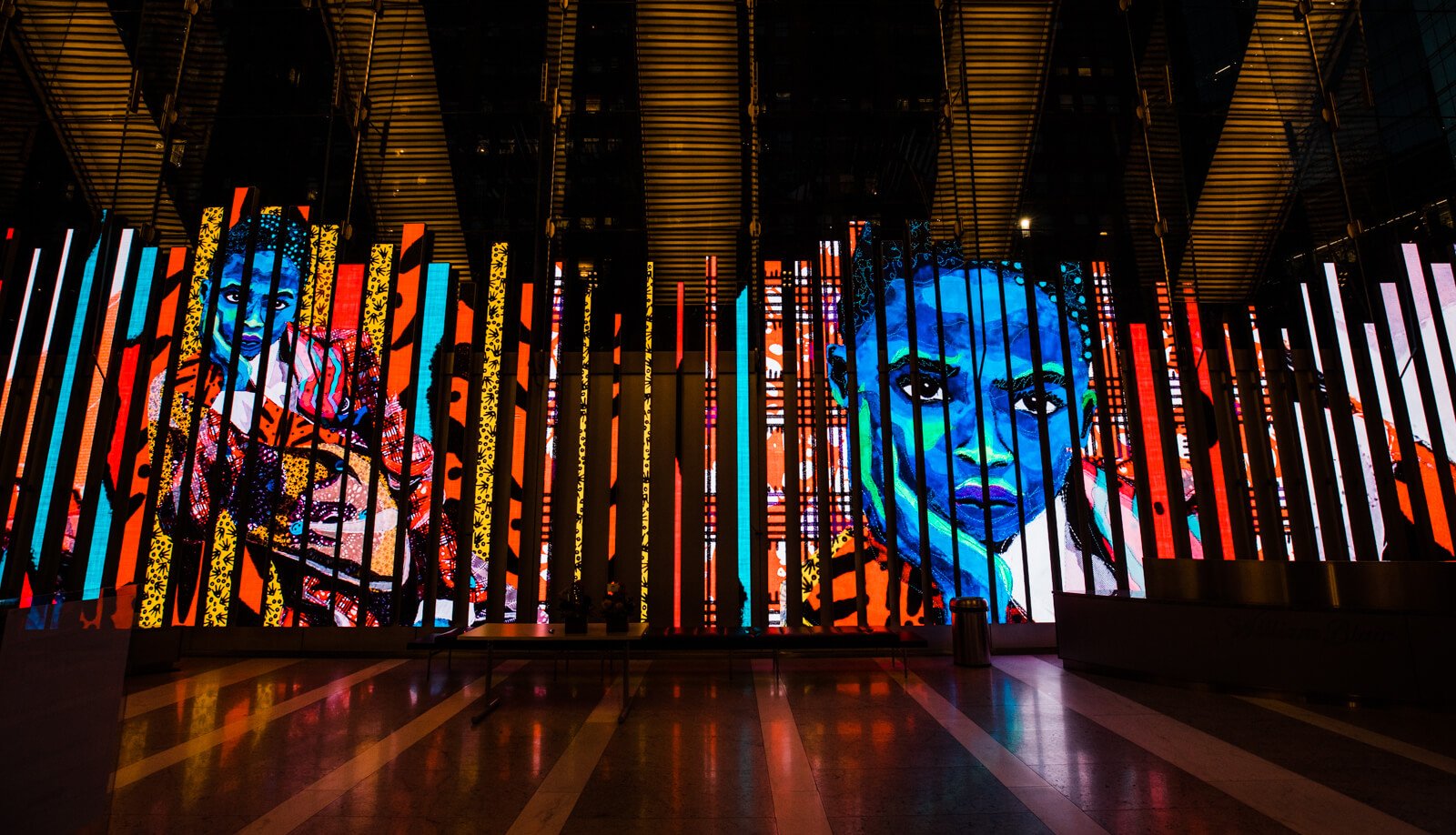 MORE ABOUT THE ARTIST
Bisa Butler's portrait quilts vividly capture personal and historical narratives of Black life.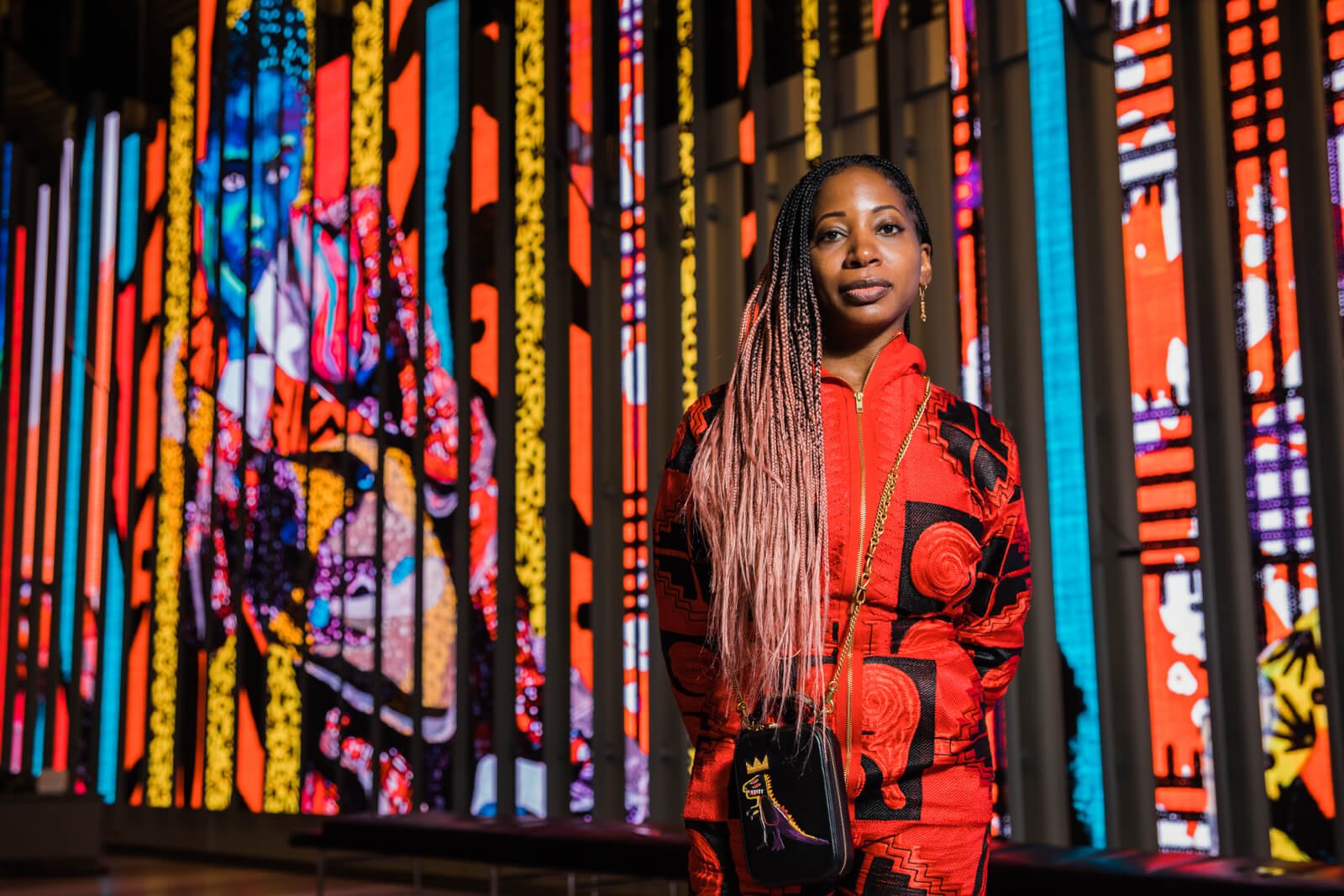 Butler often works with photographs as source images, reimagining portraits with layers of color and stitched details. She strategically selects fabrics, using the history or imagery of the prints to reinforce the stories she wants to communicate in each quilt. Layering materials and meanings, Butler brings to life personal and historical narratives of Black life and invites viewers to look closely and think deeply about the potential and purposes of portraiture.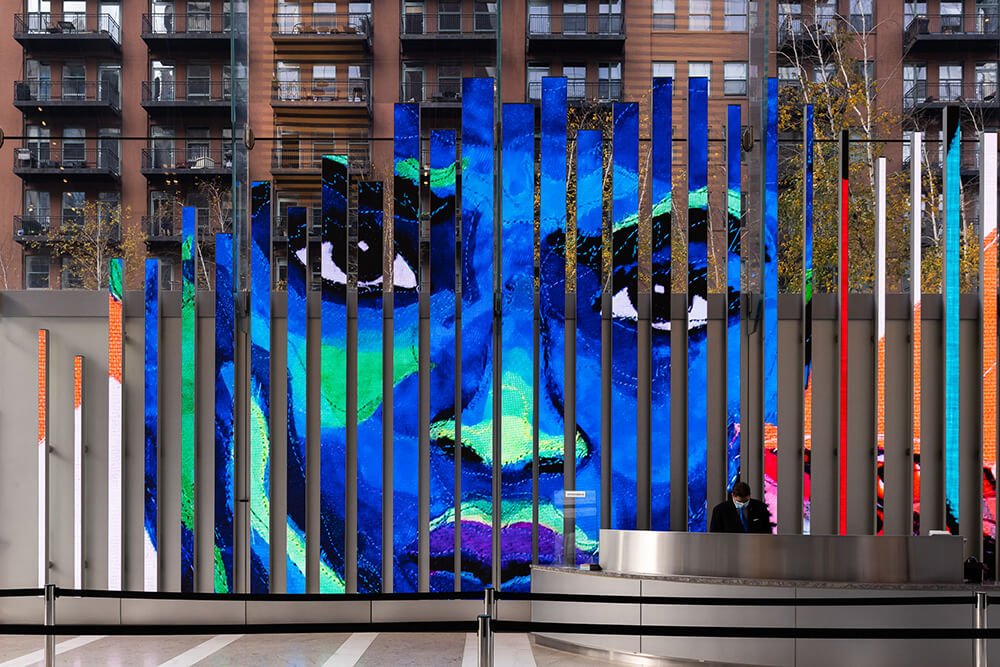 Butler's work has been shaped by a variety of influences and experiences, key among them family photo albums, the philosophies of AfriCOBRA (the African Commune of Bad Relevant Artists, established in Chicago in the late 1960s), Romare Bearden's collages, Faith Ringgold's mixed-media quilts, and Gordon Parks's photographs. Butler earned her BFA at Howard University, Washington, DC, and her MA in arts education at Montclair State University, New Jersey. Trained as a painter, she shifted to quiltmaking during her graduate studies, when she made a quilt in honor of her grandmother. She has exhibited in group and solo shows across the United States as well as in China, England, Japan, and South Africa.
In 2019, the Art Institute of Chicago acquired The Safety Patrol and is currently hosting the first solo museum exhibition of Butler's work Bisa Butler: Portraits which includes over 20 portraits.
Click here to learn more about Butler's solo exhibition at the Art Institute of Chicago.
Streaming Next… Peter Burr & Marina Zurkow