Peter Burr

Music: John Also Bennett
Technical Direction: Oren Shoham & Jeremy Rotsztain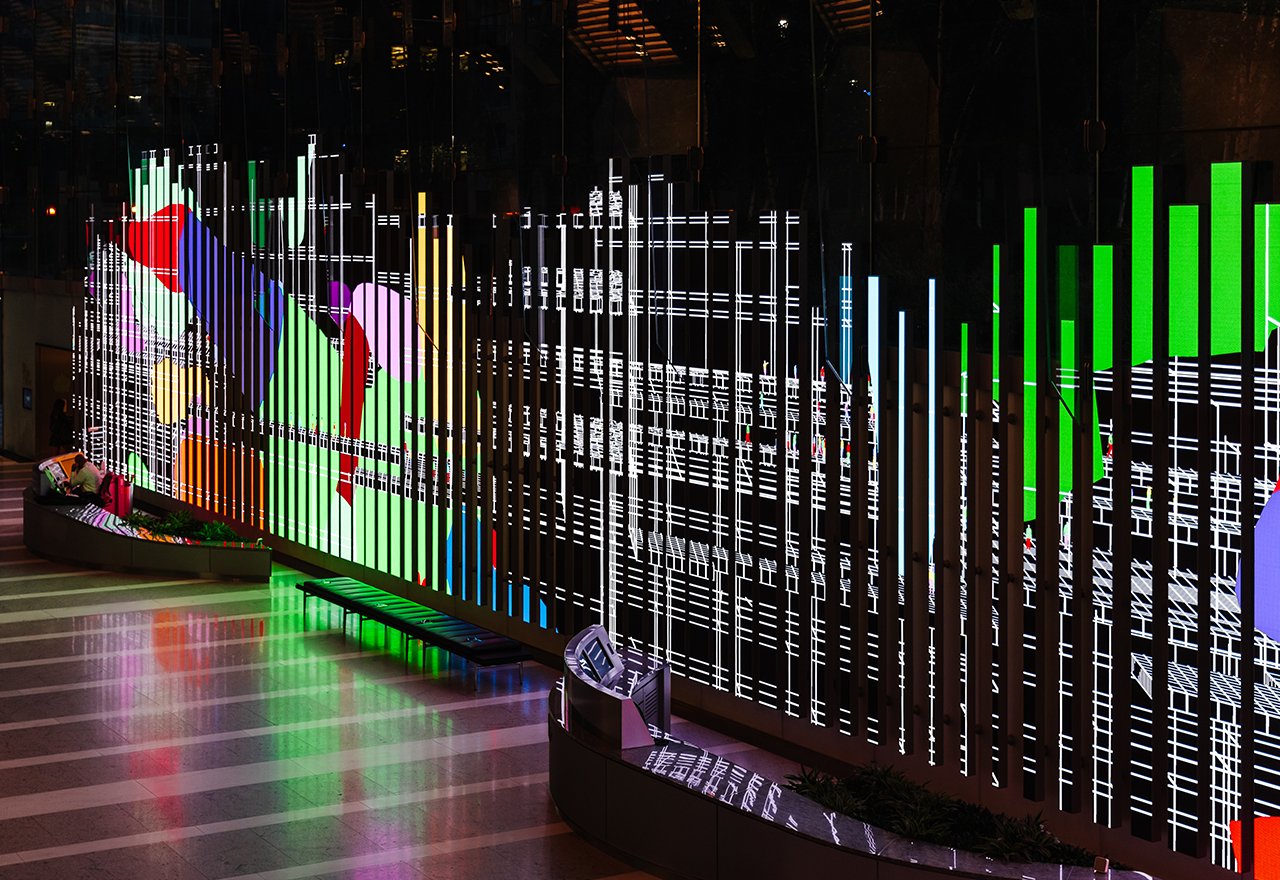 Marina Zurkow

Sound design: Scott Reitherman
Animation assistance: Ewan Creed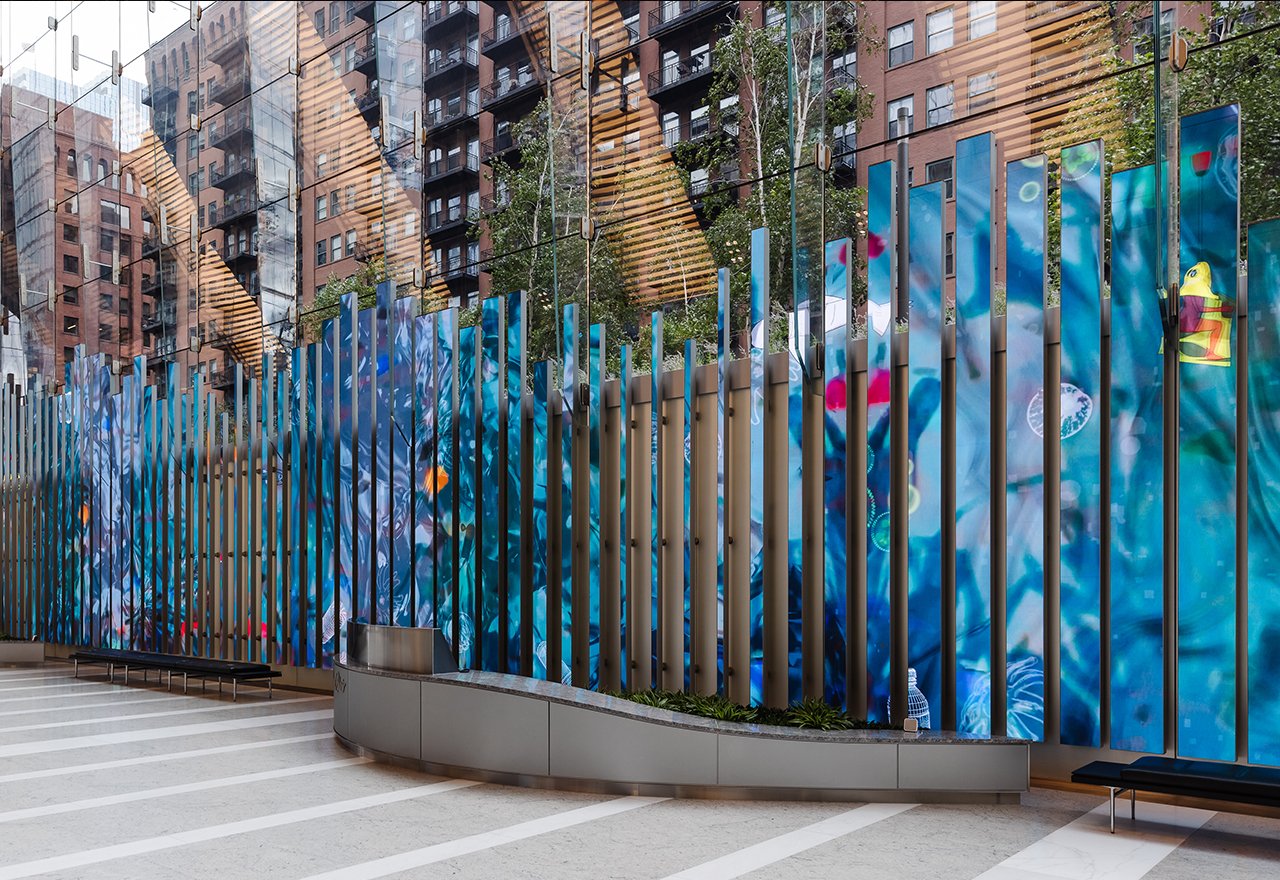 Streaming Now…
Peter Burr
Music: John Also Bennett
Technical Direction: Oren Shoham & Jeremy Rotsztain
OCTOBER 4, 2021 thru JANUARY 31, 2022
Public reception with panel conversation:
Friday, October 8th, 2021
6:30-8:30pm at 150 N Riverside Plaza
Viewing Hours:
Monday, Wednesday, Friday: 12–1:30pm, 4:30–10pm
Sunday 1-7pm
An infinitely scrolling landscape of construction and collapse, THE CONTINUOUS MONUMENT depicts a self-generating world of disassembled body parts as a site of spectacle. Tourists mingle, stare, and idle within a landscape of scattered oversized limbs in candy-colored variety. The artwork employs a collection of algorithmic systems in the development of this tableaux including crowd simulation, building assembly, and music generation. What emerges is an endlessly expanding vertical landmark in constant limbo.
The title pays homage to a 1969 artwork by the experimental architecture group SUPERSTUDIO. Their anti-architectural proposals used grid systems as a way to mediate space, often critiquing the dehumanizing tendencies of urban planning in the modern age.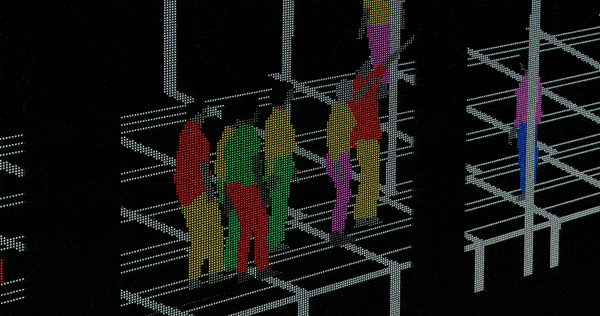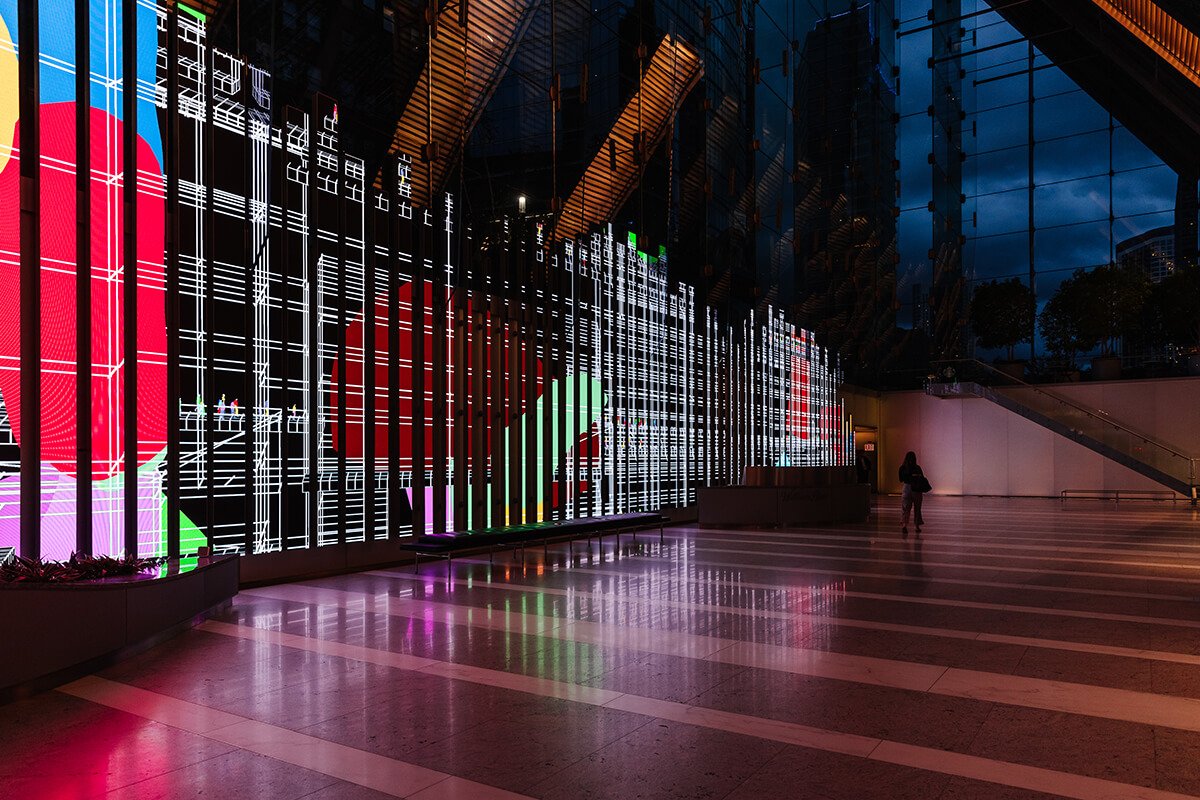 What's the process of you creating this work, the collaboration with the technical artists in your team and how did you address the unique structure of the installation?
When I first visited 150 MEDIA STREAM in 2019 I knew I wanted to make something that harnessed the capacity of the LED diodes in the sculpture itself. To do so, I ended up working in a realtime engine to build a system that allowed me to control the exact color and value of each diode. In choosing this technical path, I also leaned into the ambient nature of the space and built an artwork that can run infinitely without repetition. I worked with John Also Bennett who created a musical composition that fit the affordances of the environment. I teamed up with Oren Shoham and Jeremy Rotsztain to build software that controls and displays the work, a process that took almost 2 years.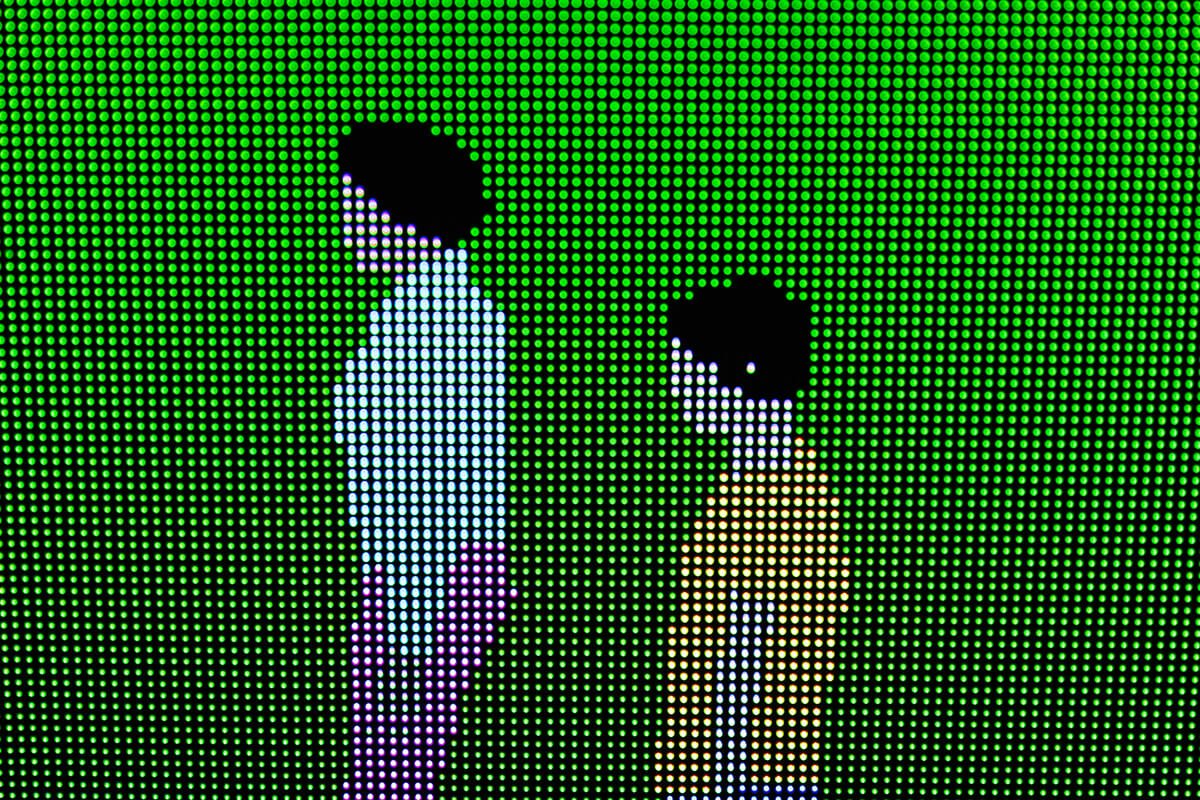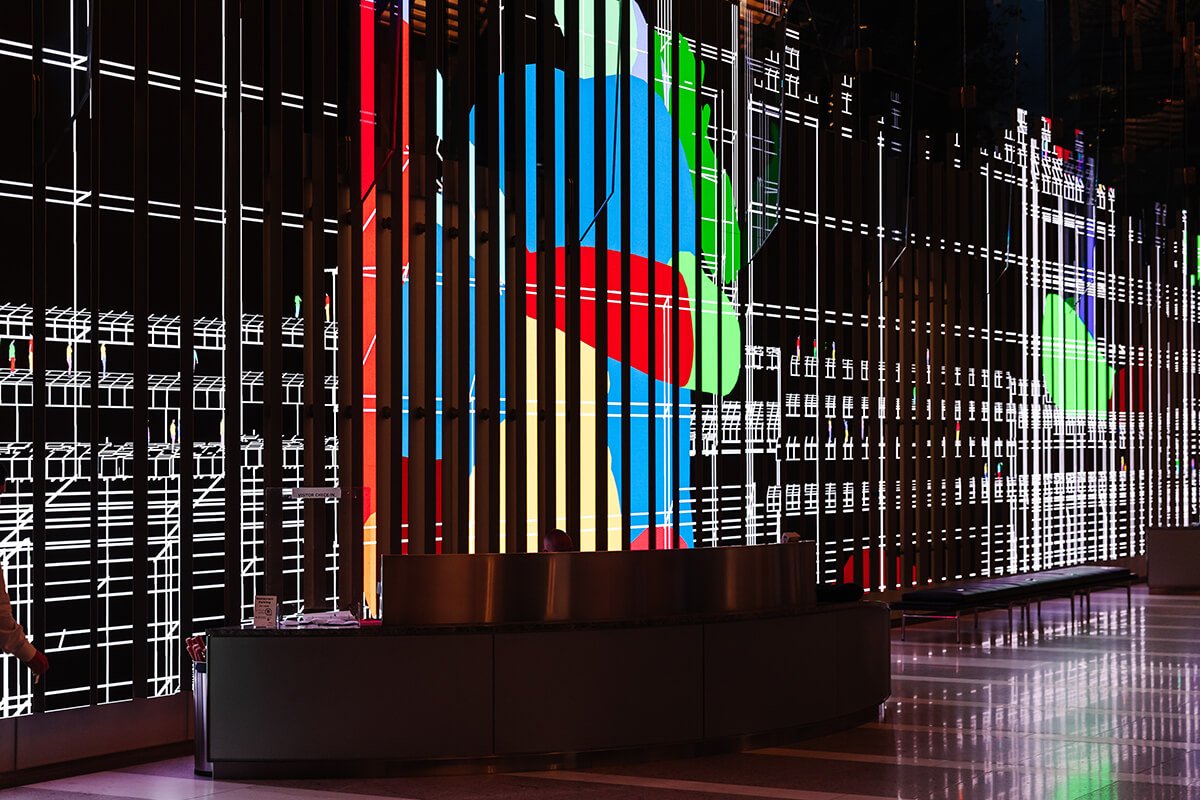 Your work with its op art illusion and flat, abstract depiction of figures seem to hint at our digitally mediated daily existence with a sense of alienation, irrationality and darkness. Could you elaborate on this simulated world you are building and its representations in the real, physical world?
This is an interesting time to be a digital artist. I feel myself bordering multiple dystopias and utopias simultaneously – some of them are technological, some of them are biological, and some of them are social. As an artist, my job is to put form to those borders and potentially conjure something that is present but invisible otherwise. Living in downtown Chicago for 2 years during the gestation and construction of THE CONTINUOUS MONUMENT gave me an opportunity to witness those borders in the same physical space as 150 MEDIA STREAM. There was a pandemic, there was a social uprising, there was an emptiness and subsequent technological prosthetic that came to replace civic space…. creating this piece in this place at this time became an opportunity to articulate a facet of this moment of place and time – something I still do not have words for.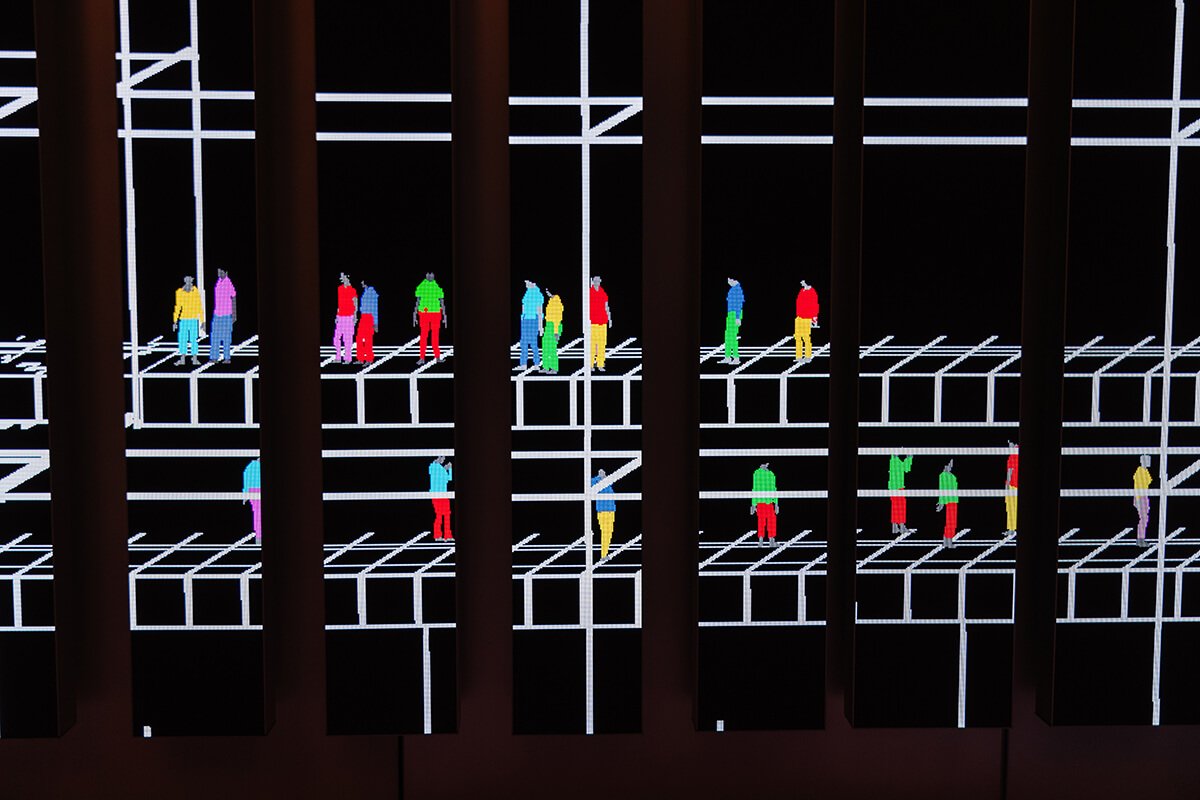 Peter Burr is an artist from Brooklyn, NY. A master of computer animation with a gift for creating images and environments that hover on the boundary between abstraction and figuration, Burr has in recent years devoted himself to exploring the concept of an endlessly mutating labyrinth. His practice often engages with tools of the video game industry in he form of immersive cinematic artworks. These pieces have been presented internationally by various institutions including Documenta 14, Athens; MoMA PS1, New York; and The Barbican Centre, London.
Previously Burr worked under the alias Hooliganship and founded the video label Cartune Xprez through which he produced hundreds of live multimedia exhibitions and touring programs showcasing a multi-generational group of artists at the forefront of experimental animation. His practice has been recognized through grants and awards including a Guggenheim Fellowship, a Creative Capital Grant, and a Sundance New Frontier Fellowship. For the past 2 years he served as a visiting artist in the Film/Video/New Media/Animation department at SAIC.
Streaming Now…
Marina Zurkow
Sound design: Scott Reitherman
Animation assistance: Ewan Creed
OCTOBER 4, 2021 thru JANUARY 31, 2022
Public reception with panel conversation:
Friday, October 8th, 2021
6:30-8:30pm at 150 N Riverside Plaza
Viewing Hours:
Tuesday, Thursday: 12–1:30pm, 4:30–10pm
Saturday 1-10pm
150 N Riverside Plaza will be closed for a private event on Saturday, October 23rd
OOzy is the newest work in Zurkow's ongoing series Oceans Like Us.
OOzy brings into view a sensual—but harsh—mix of kelp, marine organisms, human aquanauts, mermaids, plastics, and oil, who cycle and snake through the 150 Media Stream along the riverside.
An ocean is not a body—and it is. It is also a shipping superhighway; a resource for food and minerals, and rare earth; a space of mystery, adventure, fantasy, dream, and myth; a space to be mapped, measured, and known; and "Earth's" greatest engine—that maintains, reflects and affects the regulatory systems of the planet.
The works in Oceans Like Us aim to parse these often conflicted frameworks for thinking with and about oceans, offering opportunities to both make strange and increase affection for these complex liquid spaces, to offer contemplative connection time to the ocean as a fundamental life-source, a system in dire need of love and protection.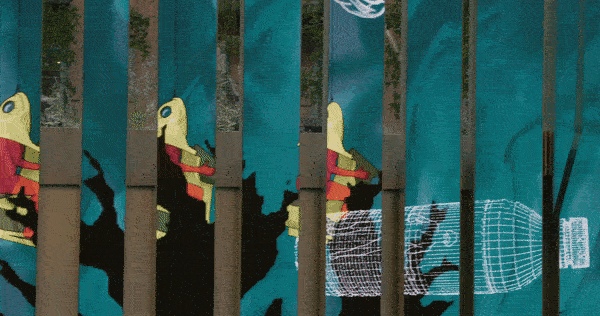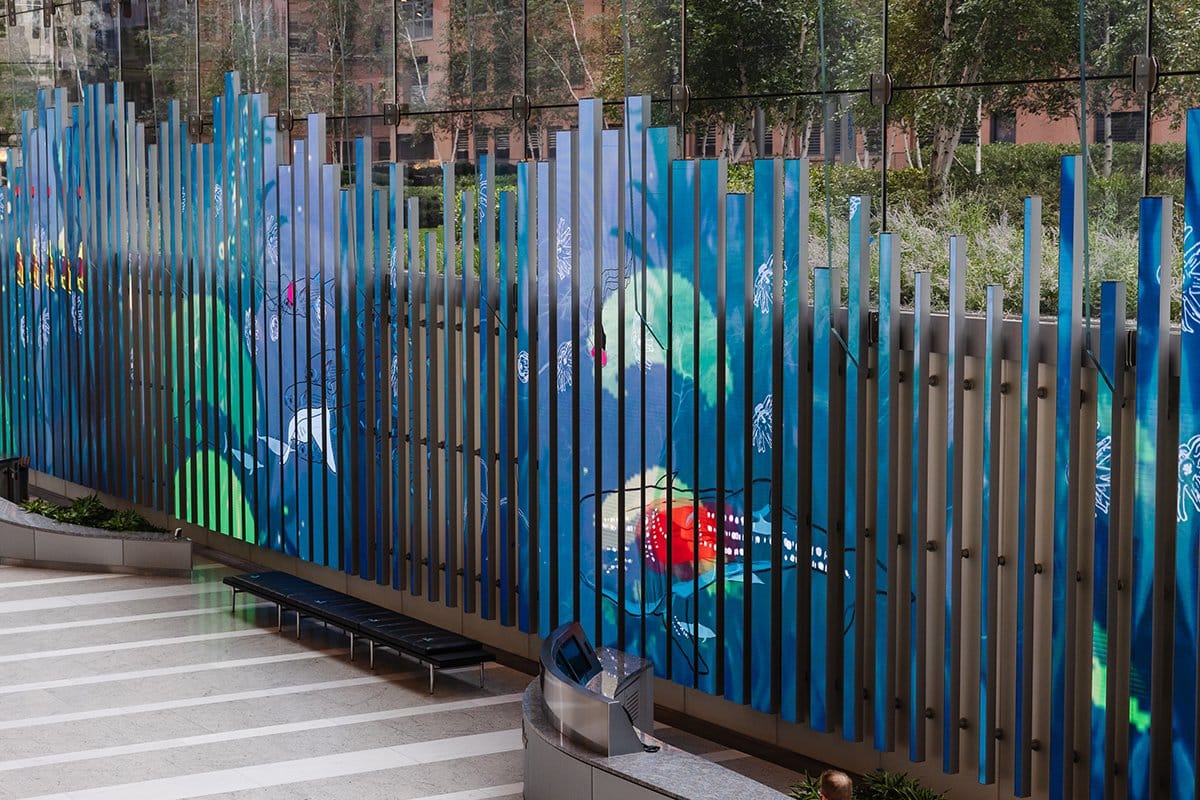 Could you talk about the process of creating this work and how did you address the unique structure of the installation?
I had the opportunity to create a not-completely positive dream-scape of an Ocean kelp forest that could hold a viewer within the sheer enormity of the screen.
Working on a screen of this scale with an idiosyncratic configuration of different height "bars" with large gaps was a challenge. Early tests of my video draft work brought the scale to life: a whale shark, so small on my production screen, is 25 feet long!
Some of the many things this screen does well: undulating rhythm of the bars' distribution, the gaps are convenient to hide seams; the mind readily uses persistence of vision to forgive the gaps.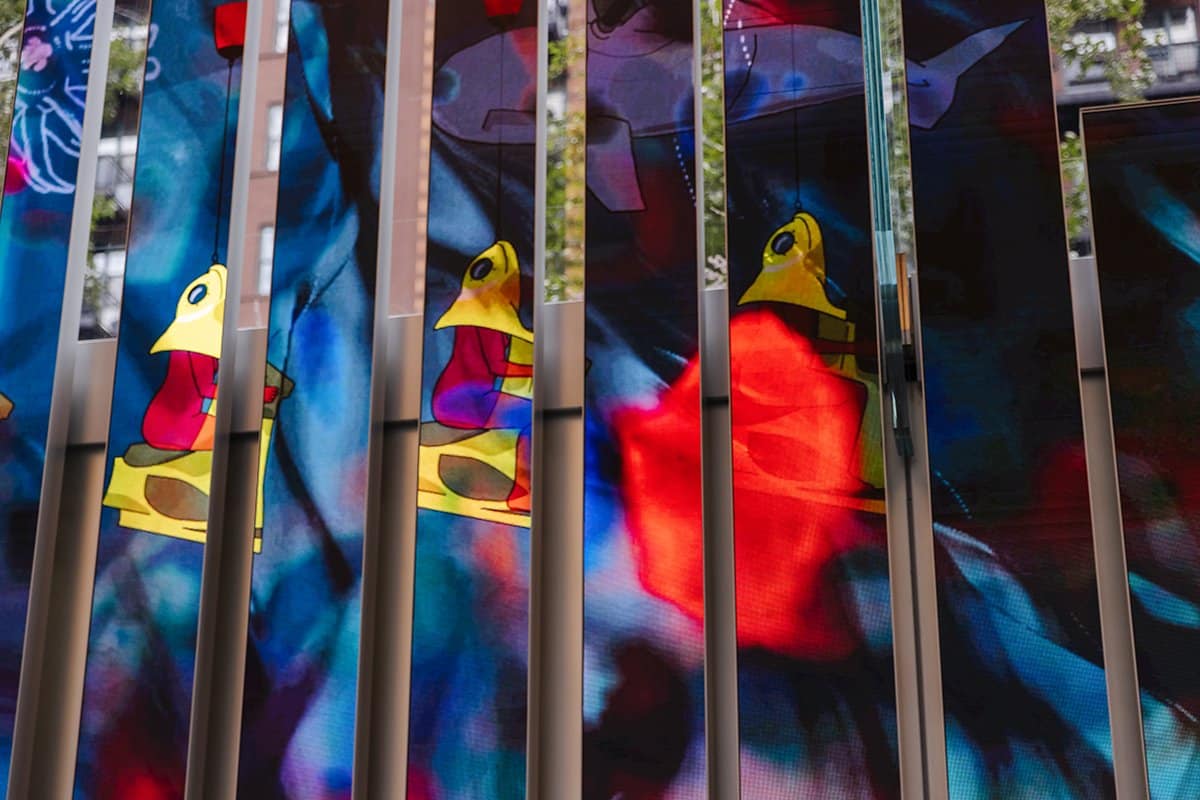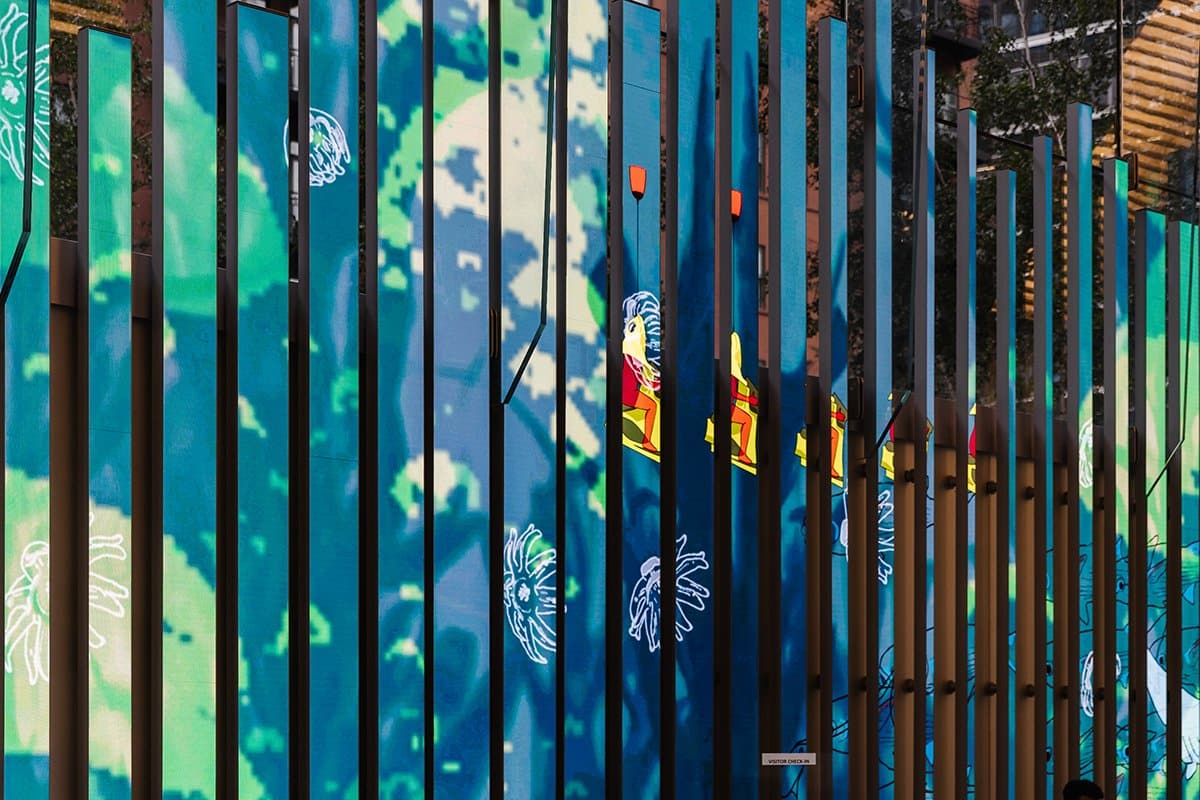 Your work uses software technologies and animation to reflect on urgent environmental issues. What do you think is the relationship between our growing sense of existence in a simulated world and our footprint in the real world?
There's an ongoing dilemma for me in using technologies—perpetrators of environmental damage at every stage, from mining, to fabrication, to dissemination, to their disposal —to invite viewers to connect to their real world environments, and to environmental "wicked messes."
Currently, technologies are a predominant mode of receiving/exchanging informational and emotional content. To avoid using technologies is materially rigorous, but if my aim is communication at any scale beyond the intimate, there must be a way in which I acknowledge the materiality of the technologies themselves, and try to fold this acknowledgement into the work, either directly or indirectly. For instance, in this piece of writing.
Animation is an invitation to suspend one's disbelief. One can be simultaneously suspicious of the form, and open to its enchantments. Animation can portray the everythingness of the environment: the ugly, the polluted, the fantastical, the extant—the undulations of this world we live in as animals among many species, and also the world(s) we make, and the world(s) we break.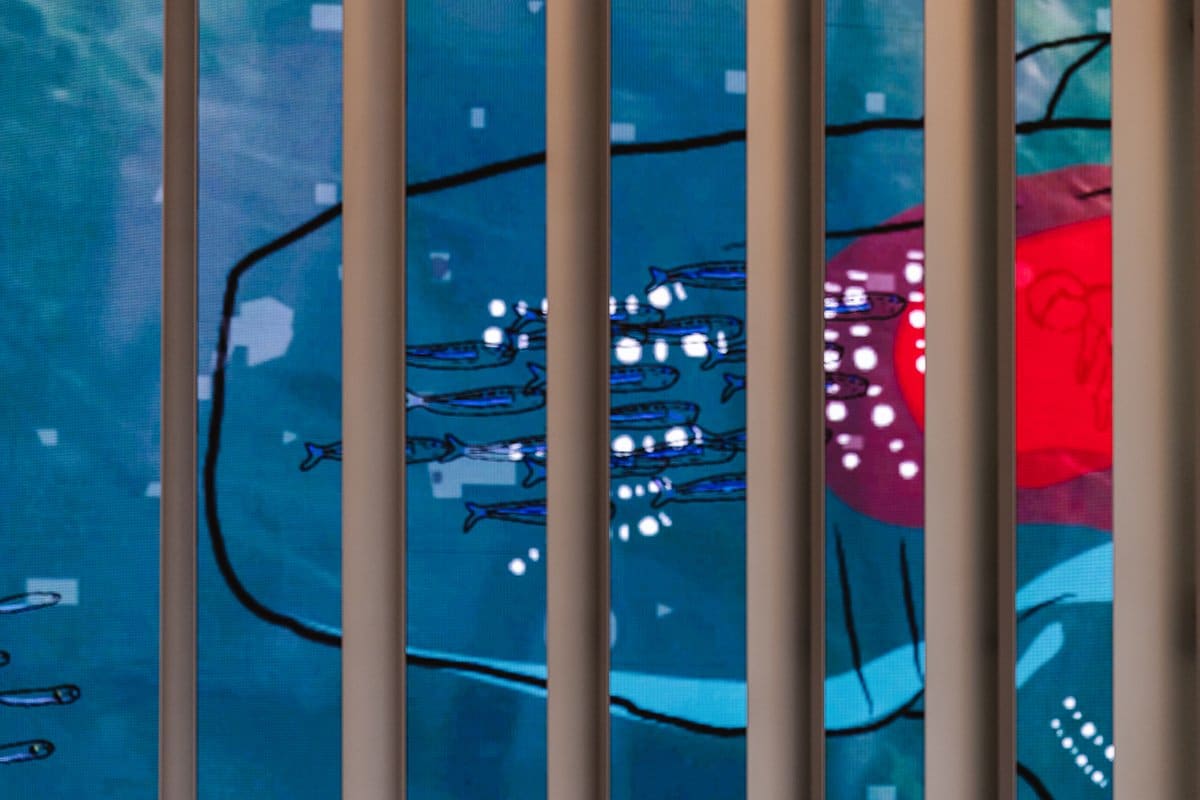 Media and participatory practice artist Marina Zurkow connects people to nature-culture tensions and environmental messes, offering humor and new ways of knowing, connecting, and feeling. She uses life science, materials, and technologies including food, software, animation, clay and other biomaterials to foster intimate multispecies and geophysical connections. She works as a founding member of several collaborative initiatives, including Making the Best of It: Nimble Foods for Climate Change, Dear Climate, Climoji, and Investing in Futures.
Zurkow's recent solo exhibitions include New York City's MTA Arts & Design, bitforms gallery, New York and Borusan Contemporary, Istanbul; Zurkow is a 2011 Guggenheim Fellow and received grants from NYFA, NYSCA, the Rockefeller Foundation, and Creative Capital. She is currently a mentor at Bennington College's Center for the Advancement of Public Action, and a professor at ITP/Tisch School of the Arts. She is represented by bitforms gallery and resides in the Hudson Valley, New York.
Words from the artist: AN EXPERIMENT
Introduction
Wet ontologies, fluid spaces: giving depth to volume through oceanic thinking is a 2015 essay by Phil Steinberg and Kimberly Peters that asks readers to think through the lens of oceans, as opposed to what the authors describe as a dry ontology.
An ontology can be thought of as a schema or mental framework that guides and organizes one's mindset; a dry ontology.
A dry ontology contains a logical accumulation of strata, built one on top of another, for instance. The air is a relatively still medium.
Using the framework on a "wet logic," I offer this exercise for visiting OOzy, the work on screen.
Special thanks to Sal Randolph for introducing me to the concept of "protocols of attention" in the first place.
Protocol: Becoming Ocean (and Material Worlds)
Set the length of time you are able to engage with this 3-minute work
There are four movements in this protocol.
After PART 1, which has a set duration, divide the remaining time evenly—or not.
For instance, if you have 10 minutes total to be with OOzy, you would divide this time up between the sections.
I suggest you use a timer with a chime.
Note:
Please take these instructions as metaphorically or literally as you like. For instance, the instruction to "get in the water" might mean, focus your attention on the screen, on the wateriness of it; or you might have brought a portable foot bath along with you. Swimming or floating might be gliding back and forth through space, bringing the screen world into your body; or it might mean lying down on the floor to rearrange your perception. All of these might be happening only in your imagination, too, so nobody knows what you are up to.
Becoming and Ocean (and Material Worlds)
PART ONE
Preparation. 3-5 minutes.
Get in the water.
What is the temperature? How does the water feel as it pools around your feet, ankles? What happens when you venture in further? Are you comfortable and relaxed or anxious in the water? Observe; it's all ok, no matter how you are feeling. Set your intentions on being in the water.
PART TWO
Move into the liquid screen.
Swim, float, be inside the content you see and hear on screen.
What are you booking at and listening to? What feelings arise? Are they friendly, unfriendly? Do you feel welcome, neutrally received, or unwelcome? What is the textural feeling of the material, is it solid, liquid, cold, hot, far, near? Who is in this space with you, what are they doing? How are they being and interacting? What do they want? Who is not visible or audible?
PART THREE
Move beyond the liquid screen.
Where does this take you?
For instance, you might go out into the open ocean, imagine a limitless horizon, or you might submerge yourself, and dive deep into darkness, or you might tunnel into the materiality of this screen itself, into the molecular arrangement of the digital apparatuses that support your seeing and hearing this work. How is this screen connected to the earth, to earth materials, to physics principles?
PART FOUR
Be the water.
Churn. Murmur. Release any hold or grip you may have on the realities and stories of this video experience, of the dry materiality around you. Become oceanic.