Action Lines / Joffrey Ballet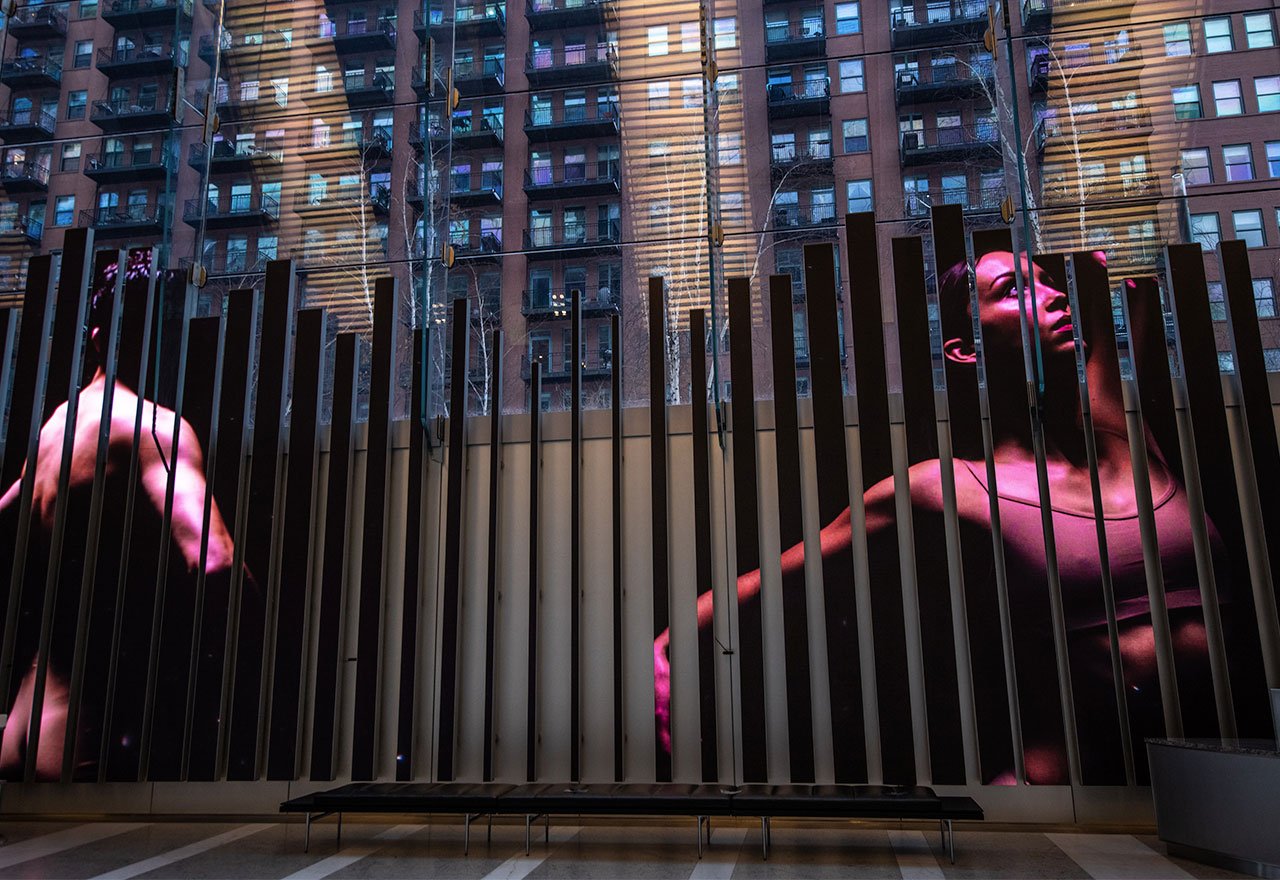 Bisa Butler / The Art Institute of Chicago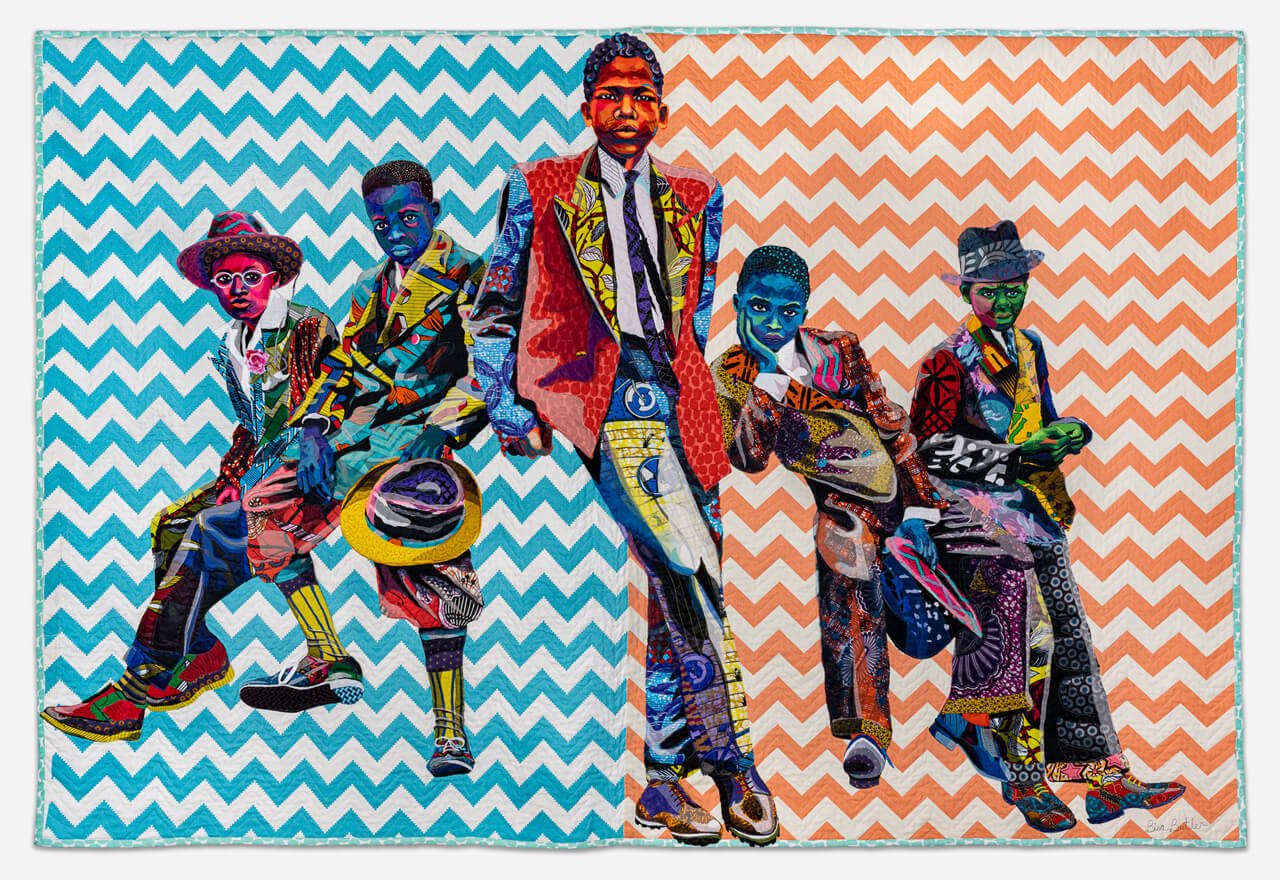 Streaming Now…
Action Lines /
Joffrey Ballet
FEBRUARY 1, 2021 thru
APRIL 30, 2021
Viewing Hours
Monday—Friday: 8–9:30am, 4:30–8pm
Saturday: 1–7pm
The dancers of The Joffrey Ballet have found themselves all dressed up with nowhere to perform. Six dancers emerge in a void, unsure of their purpose. A beam of red light beckons them like a stage manager on opening night, offering a moment of respite from their collective solitude. Never ones to give up an opportunity, they launch into the movements and shapes for which they have trained for so long. A determination to bring joy, to excite, to spark inspiration with dance, the performers urge us all to remember that even in the darkest times, loneliness is nothing more than an Interim Avoidance.
The project Interim Avoidance seeks to provide a sense of closeness during the waning days of the pandemic. It is the inaugural work by the Chicago-based production company Action Lines, in partnership with The Joffrey Ballet.
Interim Avoidance:
Concept and Creative Direction by Action Lines
Director:  Xavier Nunez
Assistant Director: Eric Grant
Dancers: Olivia Duryea, Hyuma Kiyosawa, Edson Barbosa, Jeraldine Mendoza, Dylan Gutierrez, Dara Holmes
Lighting: Jamezz Hampton
Camera Operators: Tim Whelan, Michael Kettenbeil
Special Thanks to The Joffrey Ballet
video documentation of Interim Avoidance on the 150 Media Stream
Interview with Action Lines
Could you tell us how Action Lines came about and what kind of projects your team produces?
Action Lines grew out of a yearlong collaboration between Joffrey dancers Xavier Nuñez and Dylan Gutierrez and film producer Eric Grant. As new transplants to Chicago, Xavier and Eric met Dylan and became fast friends, combining their passions for dance and filmmaking. Shortly before the COVID-19 pandemic, they filmed their first fully-realized dance film. Dylan and his fiancée Jeraldine Mendoza starred in the project—both of them accomplished Joffrey dancers in their own right—with Xavier helming and Eric producing and assistant directing. A few short months later, with the cabin fever of the pandemic settling in, the trio shifted to guerilla-style films; shot with a limited, distanced crew on the vacant streets of Chicago. Determined to make a splash in the dance and film community, Xavier, Eric, and Dylan decided to make it official and form Action Lines in late 2020. Our goal is to break through the stigma of dance films, creating projects that appeal to a broader audience and to make the medium more accessible. As the team grows, we plan to use Action Lines as a way to help younger dancers and students create their own dream projects, highlighting all areas of the performing arts.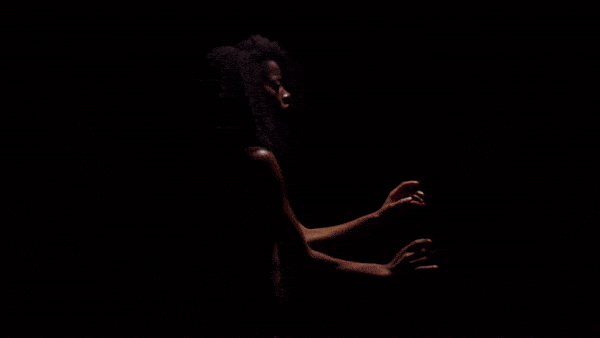 Most of your dance projects exist on stage in a theater setting with a live audience. How does showcasing the work as a hybrid of performance and video art in the context of 150 Media Stream differ from your previous experiences (creatively and technically)?
The 150 Media Stream project presented a particularly unique and exciting challenge. The magnitude of the Media Stream installation offers an opportunity to present a filmed project on the scale of a theatrical stage while simultaneously adhering to strict social distancing guidelines. Each dancer had to be filmed individually, with breaks in between to allow for air circulation. Rather than imitate a live performance, we wanted to take the opportunity with 150 Media Stream to create a unique film, stitching together shots of our dancers in a way no audience has ever seen them.
Typically we shoot and edit one cohesive video, but the Media Stream requires precise framing such that it sometimes felt like we were creating four complete videos that needed to interact with each other. It was as thrilling as it was daunting. In the dance world, choreographers stress the "shapes" dancers make with their bodies on stage. We decided to utilize the scale of the Media Stream to show audiences the delicate nature of these shapes, right down to how a dancer's muscles must contort and twist to produce something that might be visible for only a moment in a live performance. We set out to create a video that teaches the audience something new, and found ourselves appreciating our own artform in an entirely different light. In a word, the process of Interim Avoidance was divine.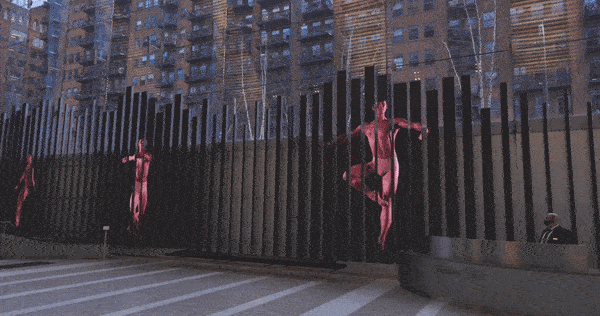 What do you think about the potential of contemporary dance in venues other than traditional theaters?
As with many artforms, dance is in a constant battle between needing to evolve and wanting to hold onto its sacred traditions. Even the most lauded dance films (such as Thom Yorke's Anima) struggle to reach an audience outside the traditional ballet-goer. However, we are confident the 2020 pandemic may have finally broken the last remaining barriers. Opportunities like 150 Media Stream give dance a chance to evolve and feel both relevant and important in the digital age. Audiences increasingly seek the comfort of live performance without the stuffy, fixed-camera recording of an old proscenium stage. Our mission is to invite audiences new and old to experience contemporary dance with the same thrill, passion, and ease of a Netflix binge.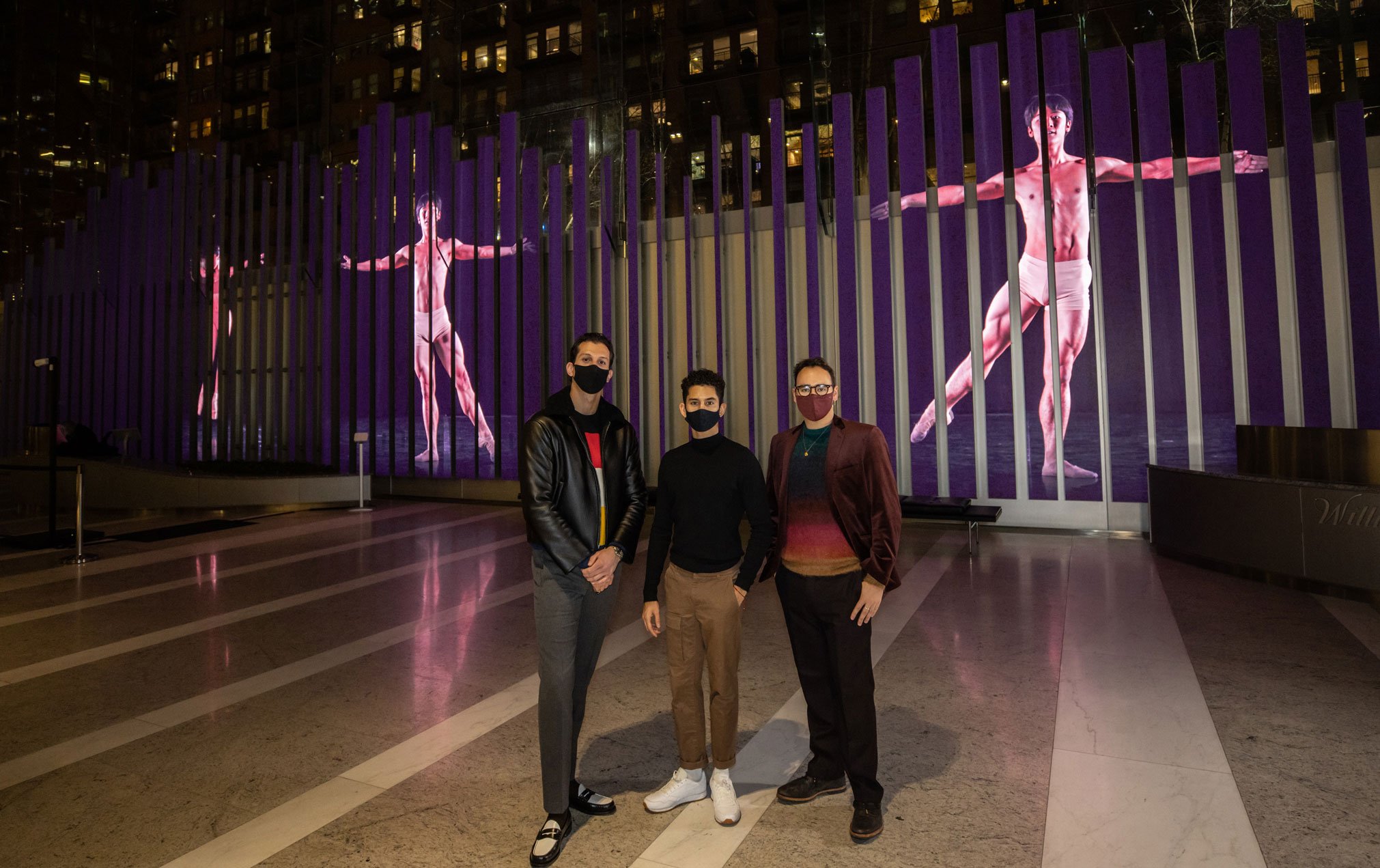 Dylan Gutierrez, Xavier Nunez and Eric Grant (left to right) in front of the 150 Media Stream
Action Lines was founded in 2020 by Xavier Nunez, Eric Grant, and Dylan Gutierrez. A trio of Chicago transplants, Xavier and Dylan are dancers with the Joffrey Ballet, and Eric is a writer and film producer. They created Action Lines as a company by and for independent performing artists. Their goal is to bring new perspectives to dance films and to provide opportunities to strengthen the bonds between the performing arts and digital media.
The Joffrey Ballet is one of the premier dance companies in the world today, with a reputation for boundary-breaking performances for more than 60 years. The Joffrey repertoire is an extensive collection of all-time classics, modern masterpieces, and original works. Founded in 1956 by pioneers Robert Joffrey and Gerald Arpino, the Joffrey remains dedicated to artistic expression, innovation, and first-rate education and engagement programming. The Joffrey Ballet continues to thrive under The Mary B. Galvin Artistic Director Ashley Wheater MBE and President and CEO Greg Cameron.
Also Streaming…
Bisa Butler / 
The Art Institute of Chicago
NOVEMBER 16, 2020 thru
APRIL 19, 2021
Viewing Hours
Monday—Friday: 12–1:30pm
Sunday: 1–7pm
In conjunction with American fiber artist Bisa Butler's solo exhibition "Portraits" at the Art Institute of Chicago, 150 Media Stream is featuring an animated version of Butler's quilted artwork Southside Sunday Morning. In all her work, Butler creates arresting portraits—composed entirely of vibrantly colored and patterned fabrics—that reimagine and celebrate narratives of Black life. The inspiration for Southside Sunday Morning was a photo taken by Russell Lee for the Farm Securities Administration on Easter morning in the Bronzeville section of Chicago in 1941.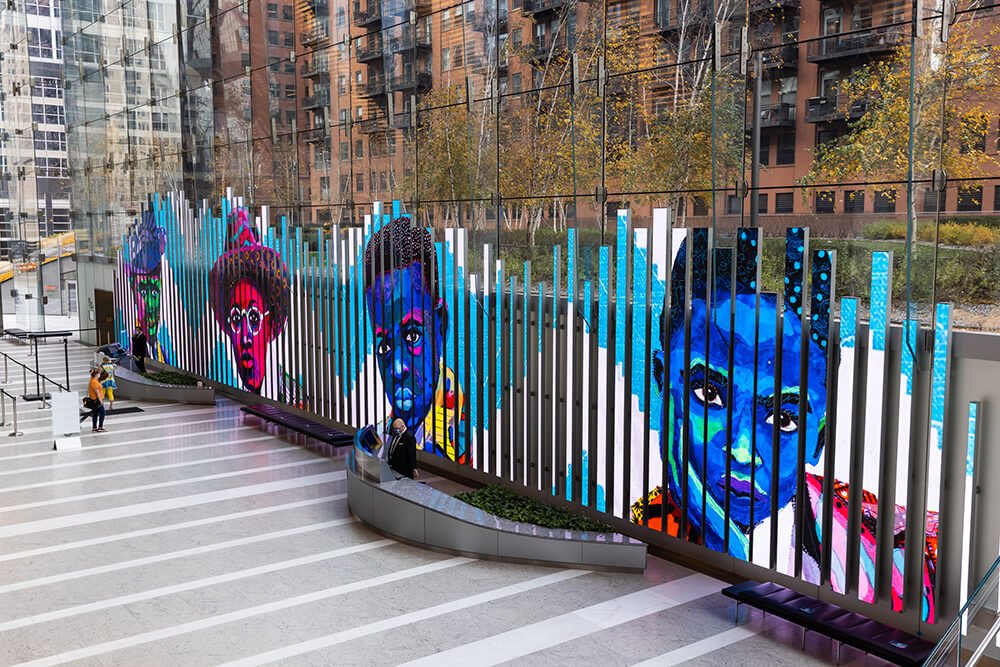 Butler described the conception and process of creating Southside Sunday Morning:
"I was inspired by the smartly dressed, handsome African American boys who had such youthful faces—but such grown up and dapper clothing. The way they are dressed indicates the effort their parents put into making sure that their children looked their best for church on Easter morning. The boys are flawless; from their freshly cut hair and waves all the way to their brand new shoes."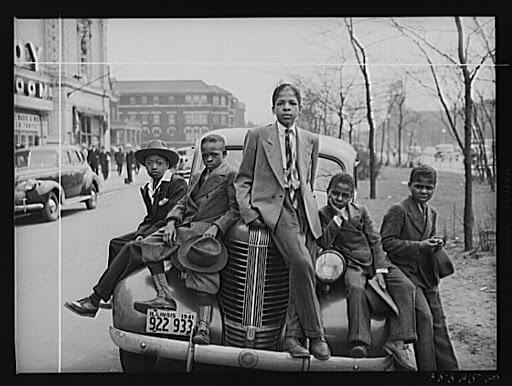 Negro boys on Easter morning. Southside, Chicago, Illinois, 1941, by Russell Lee
"I chose African Dutch wax fabric to illustrate that although these are American children, their roots are in Africa. The patterns they wear indicate their personal interests; for example, the boy in the middle has bicycles on his pants because I imagined that may be a favored pastime.
Another boy has Legos or building blocks on his jacket to show an interest in constructing things. The background fabric has an undulating chevron pattern that I've used to illustrate the frenetic energy of youth. Each child has a distinct and different color complexion because I want to show that while they are all Black, they are all unique. I use color to suggest a mood and a personality. A complexion of oranges and reds hint at a bold personality while blues and violets hint at introversion.
"I've called this artwork Southside Sunday Morning as an homage to the movie Uptown Saturday Night by Richard Wesley."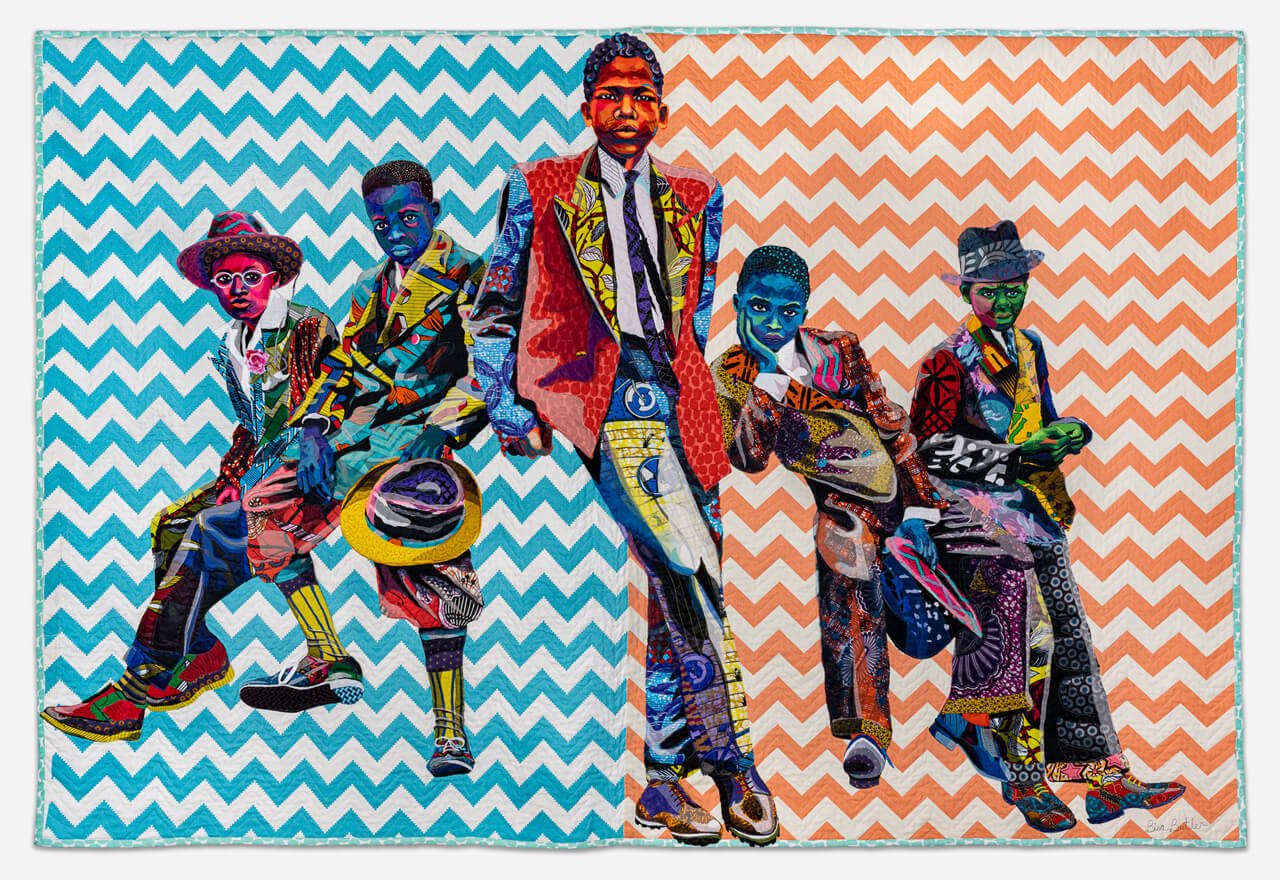 Southside Sunday Morning, 2018, by Bisa Butler. Cotton, silk, wool and tulle. Quilted and appliquéd. 73" x 109".
The animated version of Southside Sunday Morning will be on view at 150 Media Stream from November 16, 2020 to April 19, 2021. The animation of the work to be configured for the 150 Media Stream was done by George Berlin Studios.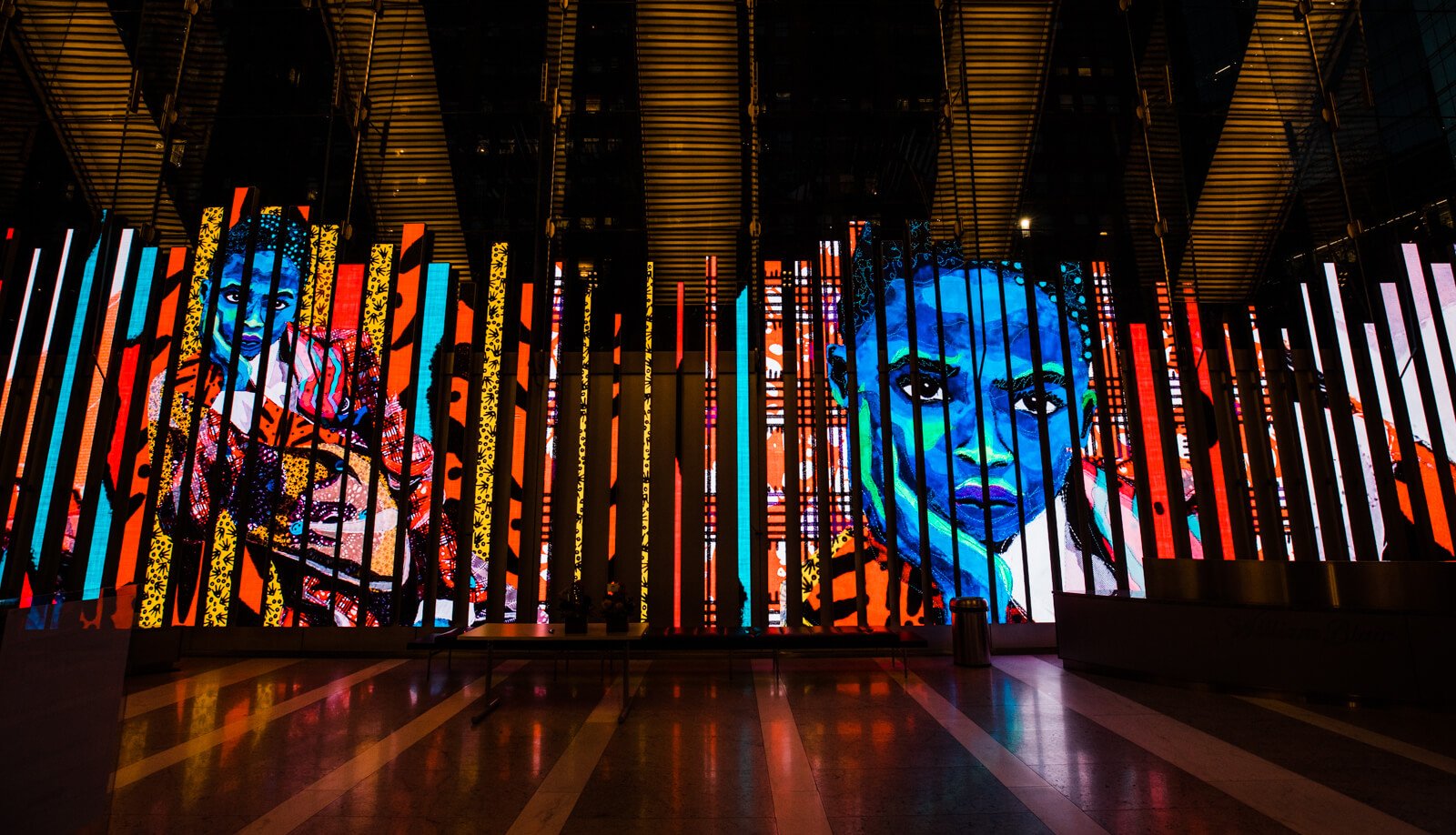 MORE ABOUT THE ARTIST
Bisa Butler's portrait quilts vividly capture personal and historical narratives of Black life.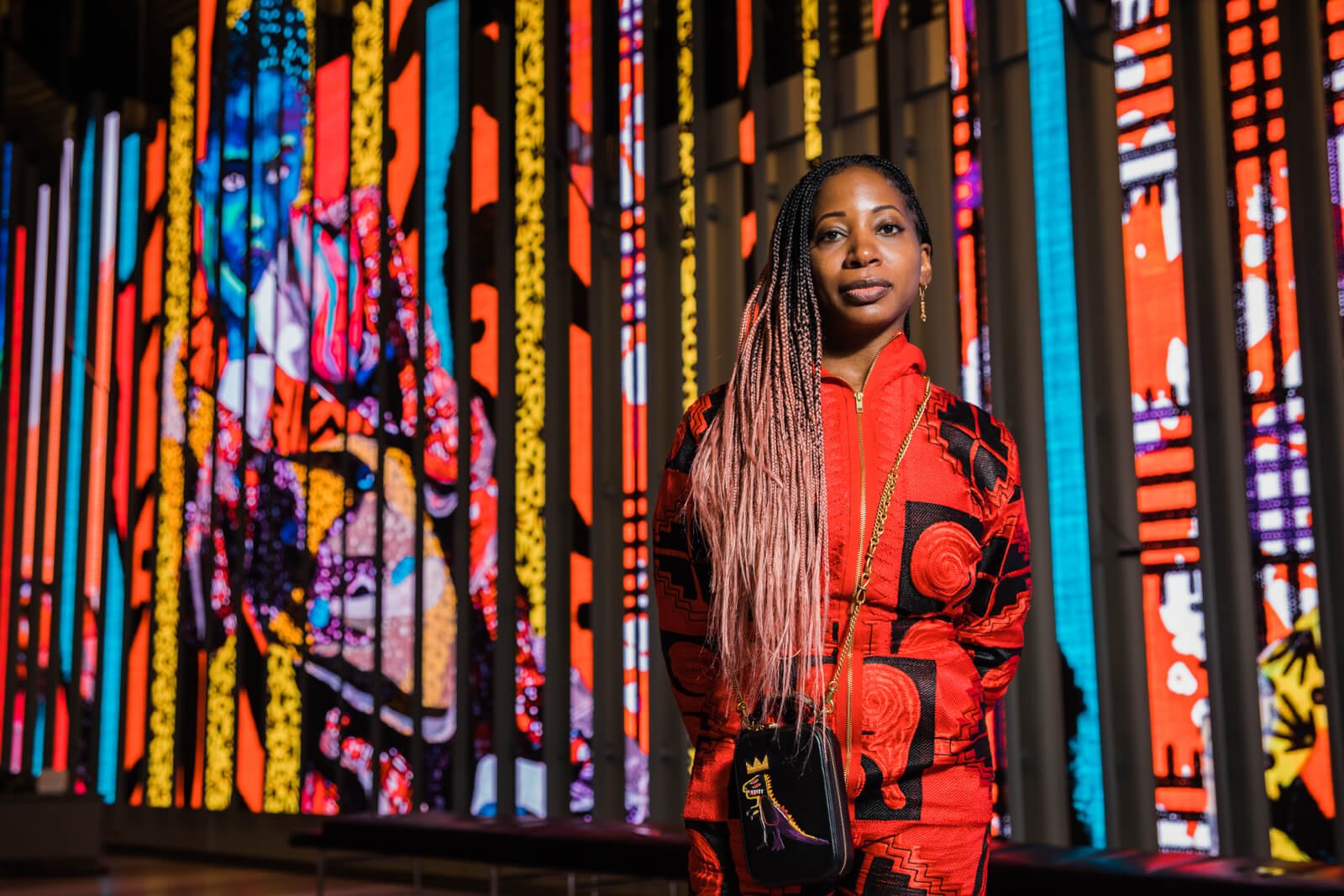 Butler often works with photographs as source images, reimagining portraits with layers of color and stitched details. She strategically selects fabrics, using the history or imagery of the prints to reinforce the stories she wants to communicate in each quilt. Layering materials and meanings, Butler brings to life personal and historical narratives of Black life and invites viewers to look closely and think deeply about the potential and purposes of portraiture.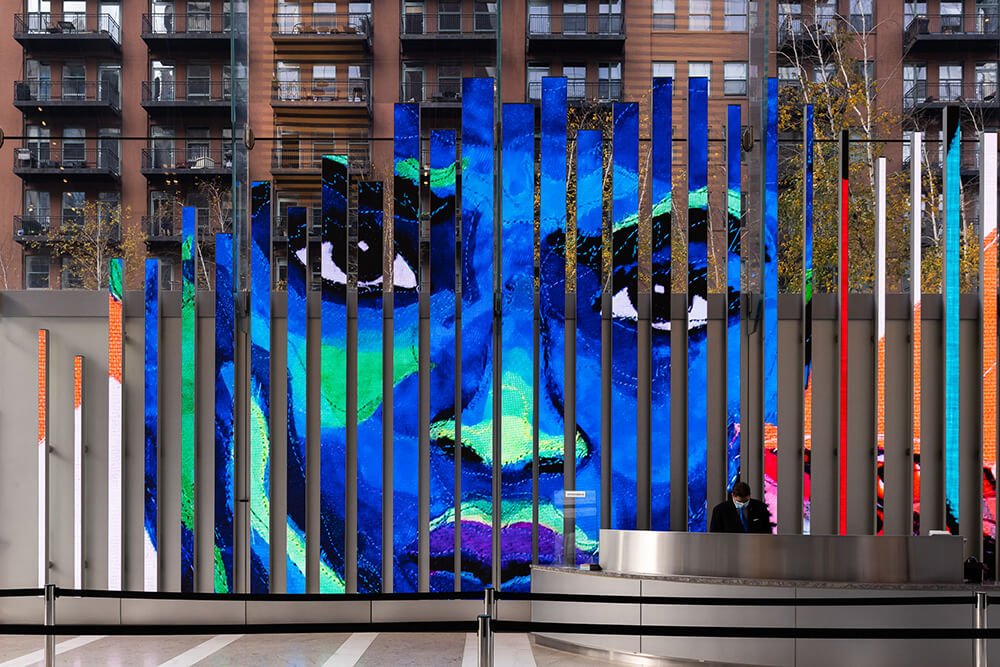 Butler's work has been shaped by a variety of influences and experiences, key among them family photo albums, the philosophies of AfriCOBRA (the African Commune of Bad Relevant Artists, established in Chicago in the late 1960s), Romare Bearden's collages, Faith Ringgold's mixed-media quilts, and Gordon Parks's photographs. Butler earned her BFA at Howard University, Washington, DC, and her MA in arts education at Montclair State University, New Jersey. Trained as a painter, she shifted to quiltmaking during her graduate studies, when she made a quilt in honor of her grandmother. She has exhibited in group and solo shows across the United States as well as in China, England, Japan, and South Africa.
In 2019, the Art Institute of Chicago acquired The Safety Patrol and is currently hosting the first solo museum exhibition of Butler's work Bisa Butler: Portraits which includes over 20 portraits.
Click here to learn more about Butler's solo exhibition at the Art Institute of Chicago.
Streaming Next… CLEVER°FRANKE