150 Media Stream is a multi-faceted achievement in art, architecture and technology that celebrates the transformational power of art as collective experience and explores the interplay of art, space and viewership in both public and private contexts.
During regularly scheduled "artists' moments," residents and visitors come together to experience media art displayed at a grand scale, as 89 LED blades stretching 150 feet long and rising 22 feet high ignite into light, color, and movement. Developed in partnership with Chicago's premier arts, culture and higher learning institutions and private supporters, the 150 Media Stream is an international platform for both rising and established Chicago, US and global media artists.
The installation also features competitively selected collaborative works by exceptional art educators and students through its groundbreaking media arts program, ensuring a truly representative cross-section of Chicago's diverse arts community.
Located at 150 North Riverside Plaza in Chicago, the 150 Media Stream is the only structure of its kind dedicated to showcasing Chicago artists, culture and history alongside renowned and emerging artists from around the world. Riverside Investment & Development
Building Developer, Commissioned 150 Media Stream
Riverside Investment & Development's most recent venture, 150 North Riverside, is located at the confluence of the three branches of the Chicago River and is a bold expression of the firm's innovative vision and commitment to excellence.
"One of our core objectives as property developers is to create spaces and places which help their occupants operate their businesses and lives more effectively and efficiently. Creating a sense of place, and an environment which is hospitable to creativity, pride of home, and an espirit d'corps is a means by which we can help our tenants recruit and retain the best possible talent. We believe 150 Media Stream is a strong example of our firm's commitment to these principles, and to delivering the highest quality properties in their given market."
—Anthony Scacco, Executive Vice President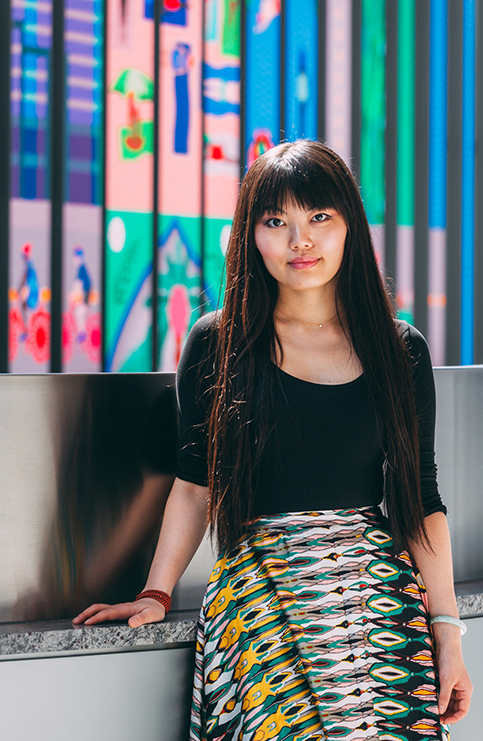 150 Media Stream Stream Director and Curator
Yuge Zhou is a Chinese-born, Chicago-based video artist and curator. As an artist, Zhou's videos and installations address connections, isolation, and longing across urban and natural environments. She has exhibited nationally and internationally. Her work has been the subject of various articles in publications including New York Magazine, HuffPost and HYPEBEAST. Zhou received the 2017 Santo Foundation Individual Artist Award and Honorary Mention in Prix Ars Electronica 2020.
As a curator, she's been directing the 3300-square-foot 150 Media Stream since its launch in 2017. In this capacity, she has worked with over forty established and emerging media artists and institutions to create innovative programming each month that engages a cross-section of diverse communities.
Zhou earned her MFA from the School of the Art Institute of Chicago, and she also holds a masters degree in Computer Engineering from Syracuse University.